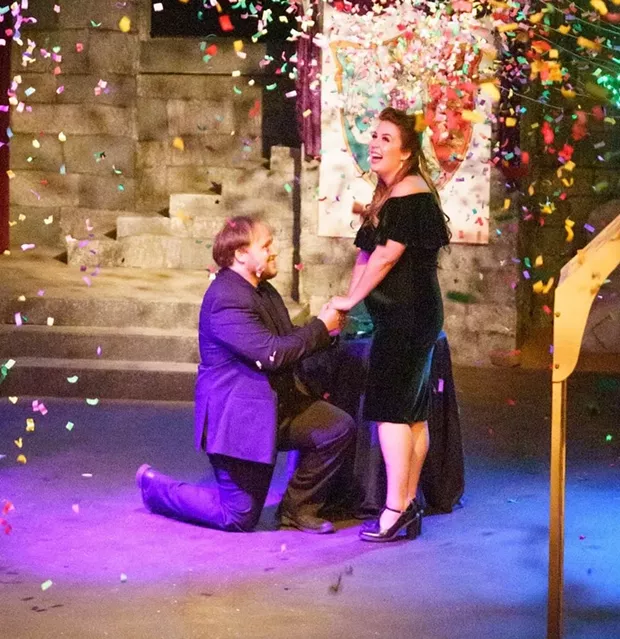 Photo by Evan Wisheropp
Evan Needham and Caroline McFarland on the NCRT stage.
With stages and shows dark, what are a couple of theater kids to do? For local actors, Evan Needham and Caroline McFarland, creativity burns in them and so doth the fire of love and, COVID be damned, both must be expressed! With their show
Hamlet
at North Coast Repertory Theatre on hiatus, a shared love of Shakespeare between them, and supportive friends on hand, it seems a marriage proposal of epic proportions was on the bill.
Needham came up with the intricate plan. He would send his unsuspecting love on a scavenger hunt across town to locations meaningful to their relationship, guiding her along with Shakespearean quotes and clues, puzzles, costume changes, a
Pirates of Penzance
treasure hunt and more that eventually led her to North Coast Repertory Theatre where the idle
Hamlet
set became the perfect backdrop for his proposal.
On September 22, all of Needham's hard work and ingeniuty paid off (plus that of a handful of close theater friends who helped). When McFarland arrived at NCRT — the outside marquee read "An Ever-Fixed Mark" — she found Needham waiting for her onstage. He sang to her, got down on one knee, revealed the ring and McFarland said 'yes' under stage lights and a shower of confetti. Photographer to the stars, Evan Wisheropp, was there to capture the magic. Dinner from Larrupin' Cafe and homemade pie from mom waited for them in the lobby.
In lieu of live performance, the two lovebirds made a bit of theater spectacle worthy of the Bard himself.
North Coast Repertory Theatre sent out notice of this lovely happening in its latest newsletter. It made us smile. We wanted to share. Congrats to Evan and Caroline! Until the lights come up...