My original plan for Saturday evening was to stay home and watch the live-streamed Arcata Playhouse Arts presentation
Intersections, Where We Meet
. The Playhouse's theater venue has been closed for months and I was intrigued by the potential of seeing more than 40 performers and eight pieces featuring dancers, classical musicians, storytellers, a clown, poets and artists from secret locations all over Arcata, a local beach and Southern California — all from home.
Photo by Mark Larson
Isadora Sharon spun around while rehearsing "Veil/Re-Veil" on Moonstone Beach before sunset Saturday.
And then Mother Nature stepped in, offering a warm, wind-free late afternoon that took my wife and I out of the house with cameras in hand to watch the sunset at Moonstone Beach. There we came across our favorite dancer Shoshanna on the beach and she confirmed, yes, this indeed was the secret location for her improvisational dance performance for the Arcata Playhouse's virtual event. (See the slideshow of the sunset rehearsal and performance below.)
She graciously offered permission when I asked if I could photograph her rehearsals and the live-streamed performance that would start after 7 p.m. We spent some time physically distancing ourselves through a mix of beach-goers of all ages on the large expanses of sand at low tide. Then we returned to the "sand stage" to photograph the dancers as they rehearsed in the last rays of sunshine and during their live-streamed performance illuminated by portable lighting.
"It was really fun having you be there," said Shoshanna in an email the next day. "It felt so much more like a real event! It's interesting to think about how, with performing arts, I need just a little bit of real human presence to be happy doing something. Even just a handful of folks happening to be there on the beach made it perfectly magical!"
Shoshanna described her dance piece, "Veil/Re-Veil," as "a structured improvisational musing on how we use fabric, veils and layers to conceal and protect ourselves, and lift and lower them as we interact with the world around us." Dancers included Shoshanna, Isadora Sharon and Jessica Vonada.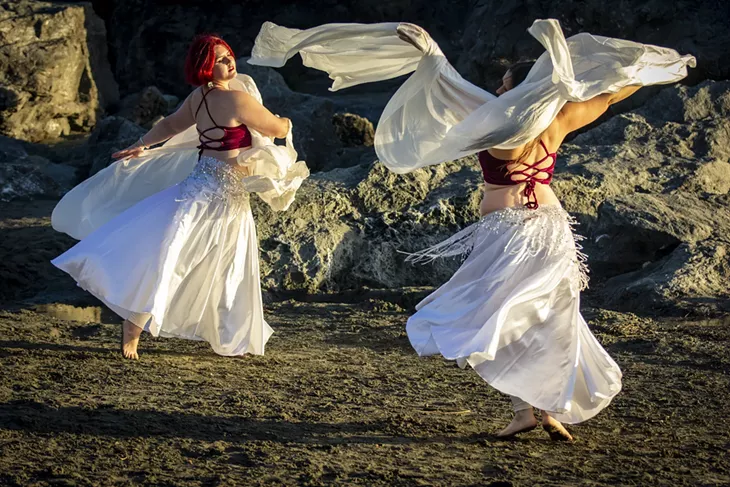 14 slides
The excellent live music accompanying the dancers on the beach was "Love to the Rescue" based on the Turkish song, "Uşşak Saz Semâî," arranged by violinist Oliver Levi, who played it live with Adam Wanden on percussion. According to Levi, the music transitions between 10/4 and 6/4, and back to 10/4, reminding us all that "love and life is an improvisational conversation between the music and the dance."
Levi said in an email that he named the music "Love to the Rescue" because that's the feeling he gets while listening to it, especially from the 6/4 (waltz) section. "As in love rescues the heart/psyche from fear — which is essential in these times where fear has been weaponized from every angle of society."
Indeed, it was a remarkable improvised, mask-wearing, physically distanced evening out watching the sunset and attending my first live performance in over eight months. We also watched other live-streamed segments of
Intersections, Where We Meet
on the beach by phone.