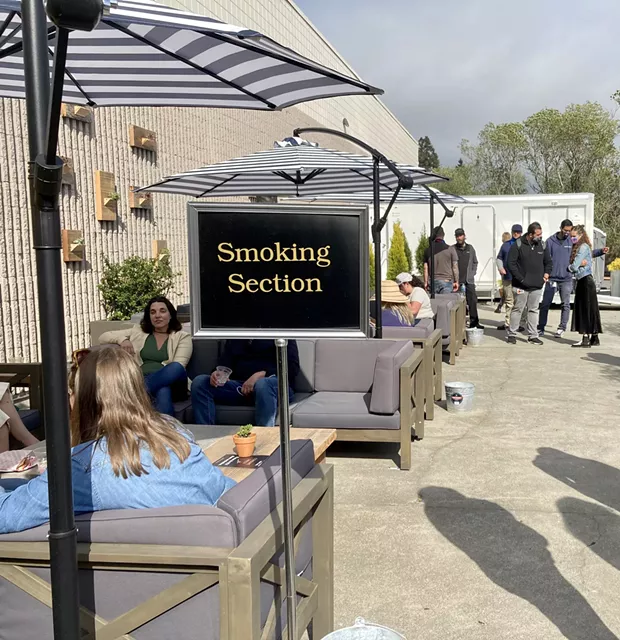 Jessica Ashley Silva
A sign beckons to the consumption lounge.
The south end of Eureka is now home to a Humboldt County first: a legal cannabis consumption lounge where you can smoke, eat, and socialize to your heart's content.
When local cannabis company Papa & Barkley converted the former K-Mart building into a manufacturing site, there was a concrete pad to the right which was destined for transformation. When arriving to the site, the outside looks as it should — an enormous industrial warehouse fit for the manufacturing of cannabis products. But just to the right, Papa & Barkley Social welcomes the public into a hidden oasis, lush and verdant. The other half of the partnership and namesake — evident by their signature aesthetic — is local hospitality brand Humboldt Social.
Guests 21 and over can enjoy a range of wellness experiences at Papa & Barkley Social. Upon entry, the reception area retail shop is stocked with locally made items, from books to clothing and swag from partnered brands.
Jessica Ashley Silva
Loren Maclaren serves up non-alcoholic cocktails.
Outside is a seated patio area next to a new food truck and a mocktail bar. The 4/20 soft-opening event featured a fresh minted lemonade with lavender syrup, and an optional Papa & Barkley Lemongrass Ginger CBD tincture for patrons to drop in themselves. Humboldt Social's growing partnership with chef Pawel Gago, of local Pizza Gago, inspired the creation of Pig & Leaf, with a menu of small bites, roasted meats, salads and sweets. While Pig & Leaf won't be serving cannabis-infused eats, guests are welcome to consume cannabis edibles in the consumption lounge beyond the food truck.
Jessica Ashley Silva
A canna-booth in the cannabis consumption area.
The consumption lounge — it's what cannabis users have been waiting for. Patrons can relax and smoke, eat or drink cannabis products in one of three "canna-booths," as named by Anea Bogue, the creative director behind the project. Plush seating surrounds fireplaces, with large umbrellas overhead to offer shade from the spring and summer sun. While the details haven't been solidified, Bogue says a nominal fee will be charged to enter the consumption area, with possible membership plans to come, as well. Patrons are welcome to bring their own cannabis products to consume in the lounge, or they can purchase directly from the new dispensary inside.
The dispensary features five brands — Papa & Barkley, Social Nature, DewPoint, Emerald Queen Farms and Sunrise Mountain — the latter three being women-owned cannabis companies. If there's a consistent theme throughout Papa & Barkley Social, it's certainly that they are women-forward. As Jon O'Connor, one half of the husband and wife team behind Humboldt Social, said at the ribbon cutting, their core demographics are women age 30 through 60. Appealing to this demographic comes naturally with such a robust team of women at the helm; co-owner Amy Cirincione O'Connor, the creative team, the farmers, the retail and spa teams are mostly female.
Jessica Ashley Silva
Papa & Barkley Social's lobby.
And, oh, yes, there is a day spa. Beyond the dispensary is a little slice of sanctuary offering massage and hot stone treatments. Guests can book online or over the phone, and can purchase Papa & Barkley or Social Nature infused topicals to be used during treatments. Lastly, no trip to this place would be complete without taking a swing in "The Nest," a collaborative, locally made botanical art installation perfect for selfies.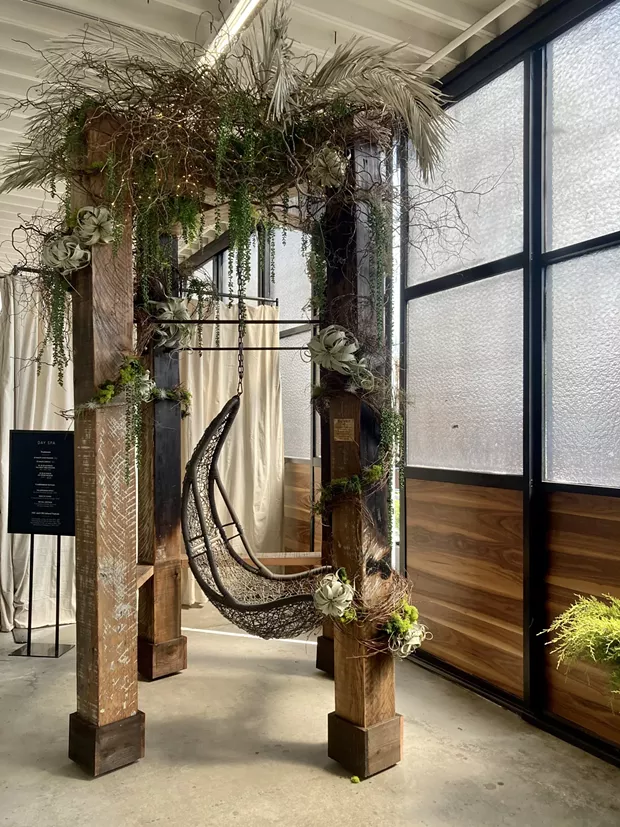 Jessica Ashley Silva
"The Nest," a collaborative, locally made botanical art installation that's perfect for selfies.
All of these indulgences are open to the public beginning May 6. So if this is your thing, go forth to smoke, sip, snack, spa and selfie out of the shadows of prohibition. This has been a long time coming.
Jessica Ashley Silva
A ribbon cutting opening the new space.
Jessica Ashley Silva
Papa & Barkley Social's front counter.
Jessica Ashley Silva
A line of clones grown under Papa & Barkley Social's front counter.
Jessica Ashley Silva
A signs explains the effects of different means of cannabis consumption.
Jessica Ashley Silva
On April 20, revelers filled the consumption lounge during a soft opening.
Jessica Ashley Silva is a foodie and cannabis propagation specialist, and works as a processing manager in Arcata's Cannabis Innovation Zone.