Next time you're in Arcata, head for the Creamery District (Ninth and L streets) and check out the two new "Homeward Leaping" stainless steel sculptures that evoke coastal cutthroat trout and the ecosystem of Jolly Giant Creek. Walk the L Street Bike Path between Eighth and Ninth streets to catch a close-up view of the permanent 14-foot sculptures designed and created during the past year by artist James Hildebrandt of the Arcata Playhouse. See the slideshow below for highlights.
Photo by Mark Larson
A view looking up from near the base of one of the two new "Homeward Leaping" stainless steel sculptures.
While you're there, also check out the new 4-by-72-foot mural featuring paintings on the fence along the L Street Bike Path south of Eighth Street. The mural depicts the diverse plants and wildlife in Jolly Giant Creek and is made of 70 individual 2-by-2-foot paintings by local grade school students. It's part of a project organized by the Playhouse Education team of Sarah McKinney, Mackenzie Ridgewood and Haley Davis, who worked via Zoom with Fieldbrook Elementary and Redwood Coast Montessori students at home this past year.
The overall project was created to increase awareness of the unique ecosystem of the Jolly Giant Creek in Arcata and included partnerships with the California Arts Council, the City of Arcata and community donations.
Seven young painters joined Hildebrandt and sculpture collaborators on Saturday, May 8 in an unveiling celebration of the two-year "Keeping the Giant Jolly" project. Local band Bandemonium opened the unveiling event, including an original piece of music written by bandleader Gregg Moore. Hildebrandt offered a touching thank-you speech for all the help and support he received, followed by Arcata Playhouse Executive Director Jacqueline Dandeneau leading attendees in a closed-eyes imagining of a large-scale, expensive unveiling of the "Homeward Leaping" sculptures, which could not be draped due to their size.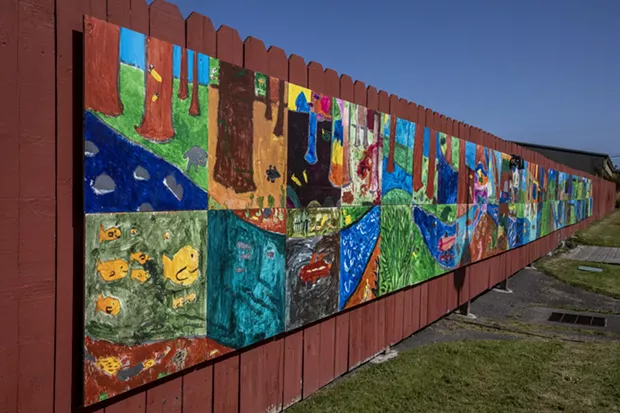 Photo by Mark Larson
A 72-foot-long mural created by local elementary students as part of the project.
McKinney next led seven anxiously waiting grade school-age painters down the block to a red carpet in front of the draped mural, where she shared the backstory of the painting mural project. With minor fanfare, the drape was removed from the 72-foot mural and the students lined up in front of their paintings.
<!———EndFragment———>