Beginning with a traditional Wiyot blessing by former Tribal Chair Cheryl Seidner and ending with the red ribbon cutting by Eureka Mayor Susan Seaman, the weekend-long grand opening of the Redwood Sky Walk began last Friday morning under the redwoods on the newly paved path at the Sequoia Park Zoo.
Photo by Mark Larson
Three yoga instructors from the Pali Yoga Studio interspersed themselves among participants on the suspended walkways and tree platforms of the Redwood Sky Walk.
Over a decade long in planning and construction, the Redwood Sky Walk is owned and operated by the City of Eureka. Its grand opening ceremony featured speeches by the Eureka city manager and representatives from the Sequoia Park Zoo and the Sequoia Park Zoo Foundation, followed by recognition of donors, several community partners, vendors and contractors. The Forest Four, a local string quartet, provided live classical music. (See a slideshow of the ceremony and weekend events below.)

Next up on Friday's itinerary after the Sky Walk closed to the public, more than 20 members of the Humboldt County En Plein Air group showed up for an evening of painting the light and aerial perspective high off the ground. Several artists agreed to donate their paintings to the silent auction for the fundraising event that's since been postponed until COVID-19 restrictions are lifted.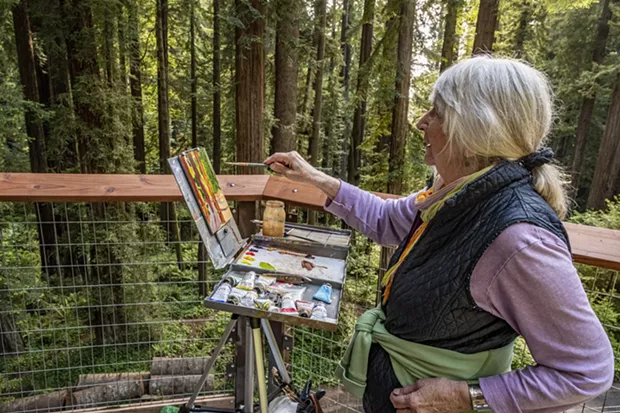 Photo by Mark Larson
Artist Cretha Wilson, of Ferndale, found a shady spot on one of the redwood tree platforms and quickly began her painting.
A yoga class followed on early Saturday morning before the Sky Walk opened to the public. Three yoga teachers from Pali Yoga studio in Eureka led 30 participants in a one-hour yoga instruction high up on the walkways accompanied by the early morning sounds of the forest and a melodious sound bath of large gongs located on a nearby tree platform. For those wondering, Sky Walk representatives said the facility will be available for rental for special events in the future.
On Sunday, local naturalist Justin Legge of Benbow Historic Inn and Benbow KOA led participants on the forest floor in a one-hour introduction to the Japanese tradition of forest bathing and forest therapy.
Find more information here, as well as ticketing and access through the Sequoia Park Zoo here.