Lots of people showed up for Blue Lakes's 53rd annual Annie and Mary Day on Sunday, reflecting their willingness to be out in a semi-post-vaccination world, as well as the draw of a small-town parade, a line up of vintage vehicles in the Bill Nessler Car Show and a music and crafts fair in Perigot Park. See the slideshow below for highlights.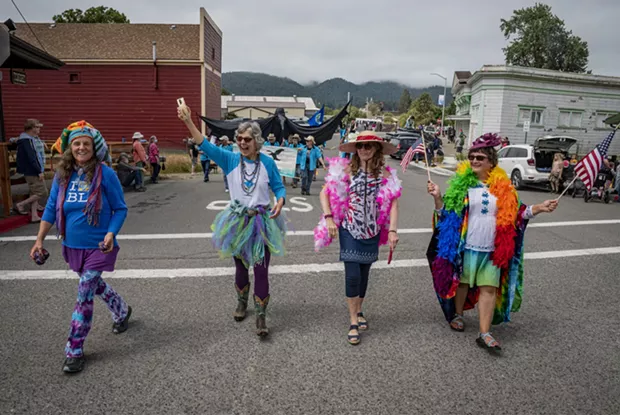 Photo by Mark Larson
The Ladies of the Lake, the women's side of a Blue Lake civic organization, showed up to greet the crowd.
According to the city website, "Every year since 1967, the Blue Lake Chamber has sponsored Annie and Mary Day. Annie and Mary Day is a celebration of the historic Arcata Mad River Rail Line, named after Annie Carroll and Mary Buckley, two bookkeepers who were employed by the railroad around the year 1907."
26 slides
The fog burned off for the late morning parade in warm, pleasant sunshine and it seemed like record numbers of vintage vehicles packed Railroad Avenue in the car show. Marvin Samuels of the Chamber of Commerce said it had to cut off vendor participation at 50 due to high interest this year. A large crowd of mostly unmasked attendees filled Perigot Park for the afternoon of live music by Back Seat Drivers, Dead On, Cadillac Ranch and Barn Fire.