Last Wednesday through Sunday, a memorable Baduwa't Festival: A Gathering of the People (formerly known as the Mad River Festival) took place in Dadiqhoughuk (Blue Lake) at Dell'Arte's outdoor performance spaces. To the chagrin of a few turned away at the door, a well-publicized policy required a vaccination card or proof of a recent negative COVID-19. See highlights of the events in the slideshow below.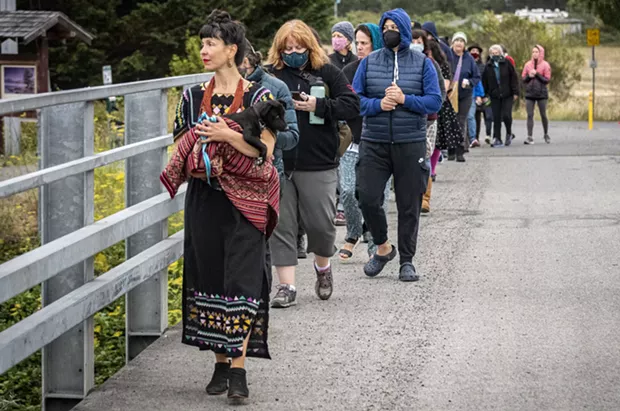 While I didn't get to all the daily programs, I was interested in learning what the Dell'Arte International team would feature, in addition to using Wiyot names for the river and location, as it moves forward. The Opening Celebration highlighted its partnership with members of the Wiyot Tribe and Two Feathers Native American Family Services, along with acknowledgement of "the ancestral lands of the Wiyot Tribe and the interconnected relationship of community, land and the time we have together." It was followed by a moving remembrance of Awok Gene Brundine, long-time DAI videographer, a silent candle-lit walk to the Baduwa't (Mad River) and a virtual screening of director Michelle Hernandez' film
Douk.
The film is a historical fiction drama based in the 1900s about a young Native girl and her sister who are taken away from their family and sent to boarding school.
Circus Nonsense offered during the festival six shows of "Beach-O-Rama: Shell Yeah! It's a clambake of a good time!" involving juggling, circus arts and acrobatics by 10 performers in a seaside story line of lifeguards and friends, a seagull and underwater life forms. It was done in a more traditional DAI style of physical creativity — not surprising, given that it was produced by alumna Suzanne Santos (2005).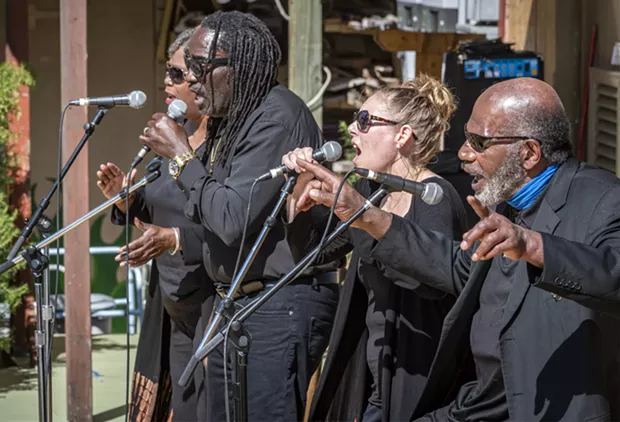 Saturday featured music by the Nu Heavenly Tones Gospel Group, followed by a work-in-progress preview of Michael Fields' new production company's
MADSUMMER Night's Dream
, featuring the Dell'Arte House Band. Fields described the moving song-fest as "a first showing of a very free and loose jukebox musical adaptation of Shakespeare's
A Midsummer Night's Dream
, with all the lovers over the age of 60, set in a nursing home during a pandemic, with the staff of the home-like Cirque on steroids (but making minimum wage)." It was followed by a tribute to Timmy Gray, Dell'Arte's longtime composer and sound designer who died in April. Friday and Saturday also featured the two usual late-night shows of the R-rated Red Light Cabaret.
This Simply Can't Be How It's Done
showed how it can be done by the talented DAI alumni Cleo DeOrio, Kathryn Cesarz, Jesse March and Evan Grande. The festival wrapped up with the Baduwa't Mini Music Fest from late afternoon into the evening, featuring Oryan Peterson-Jones, Los Perdidos, Over Yonger, Johnny Kadingo, Cadillac Ranch and Tropiqueño.