Participants in the second annual Witches Paddle on Saturday afternoon were invited by organizer Jody Himango to "wear your best witchy water outfit to artistically express the power of women while celebrating Halloween." But those who showed up in the blustery weather under cloudy skies faced the power of Mother Nature and possible cancelation of the event.
Photo by Mark Larson
The witches pause on the water at the foot of F Street before turning back to their put-in.
"This year, the weather made the planning a bit more challenging," said Himango. "I'm a very dedicated weather watcher so that is part of the fun for me. The timing of the rain finally stopping gave us the perfect break in the weather to go ahead with the event." See the slideshow below for highlights.
Thanks to clearing weather, as the wind died down, the stand-up paddleboarders, kayakers and canoeists hugged the south shoreline of Humboldt Bay as they departed from the Eureka Boat Basin Public boat launch and headed to the public dock at Woodley Island or to the Samoa Bridge Boat Launch.
But as they neared the east end of the Eureka Boardwalk, group consensus was to cut short their route and return to the put-in location. It also turned out to be a convenient stop for a few witches to get ice cream cones at the shop at the foot of F Street at the Boardwalk before paddling back.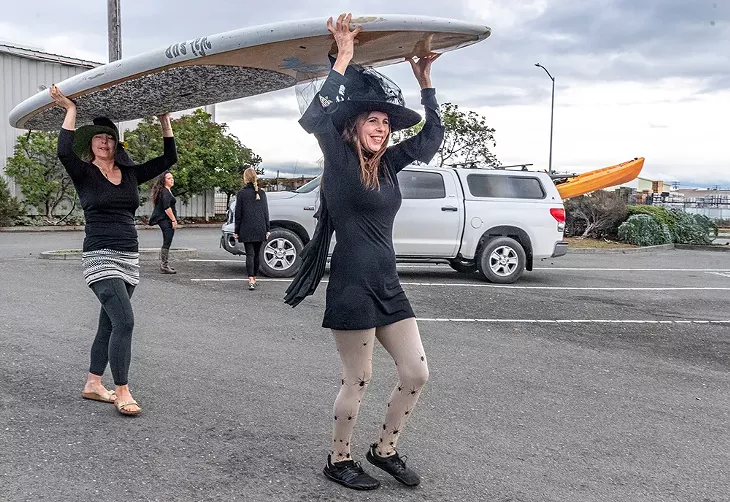 14 slides