The Humboldt Crabs were back on the field this weekend with a series against the Novato Knicks. Friday's season opener saw our hometown crustaceans cracked by an 8-6 loss, despite a three-run inning. Saturday the Crabs took another loss with a 2-0 pitchers' duel, but rallied on Sunday to win 8-3 against the Knicks three-run barrage in the fifth inning. Photographer Jose Quezada was at the ballpark. See his photo highlights below.
Photo by Jose Quezada
Opening day starter Caleb Ruiz threw for four innings striking out six, allowing no walks but giving up 10 hits to take the loss.
Photo by Jose Quezada
Billy Ham scores the first run for the 2023 Humboldt Crabs season, scoring on a passed ball after the designated hitter batted the first double for the Humboldt Crabs in the young season.
Photo by Jose Quezada
Colby Lunsford applies the tag at second base on a Novato Knick runner Friday evening. Lunsford went one-for-five in the opening day loss 8-6.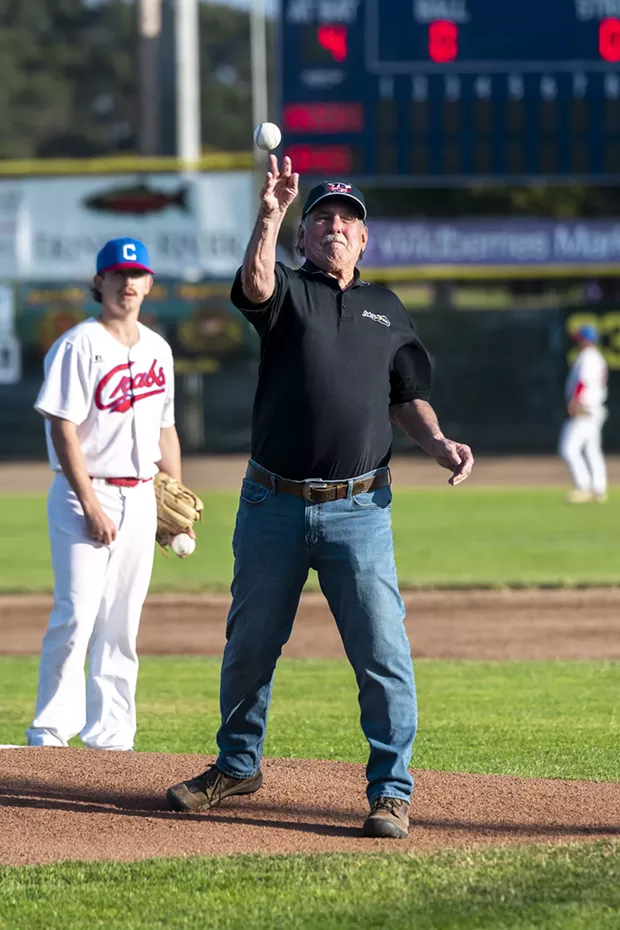 Photo by Jose Quezada
Mike Edward Kearse throws out the first ball for the 2023 Humboldt Crabs baseball season Friday night at the Arcata Ball Park. Kearse is the son of New York Yankees catcher Eddie Kearse, who also played Oakland Oaks. "My dad was the best catcher on the West Coast. He knew Babe Ruth and Lou Gehrig," Kearse said after tossing the ball.
Photo by Jose Quezada
Crabs shortstop Luke Reece makes the tag at second base on a sliding Novato Knicks runner. Reece went one-for-three in a close 2-0 loss in the second game of the 2023 Crabs season.
Photo by Jose Quezada
Starting Crabs pitcher Cameron Saso went six strong innings for the Crabs allowing three hits and striking out seven.
Photo by Jose Quezada
Longtime Humboldt Crabs super fan Tamara Clohessy pulls out her sliding song whistle trying to rattle a Novato Knight pitcher warming up to start the third inning during the Crabs second game of the three-game series.
Photo by Jose Quezada
Brady Chavez allowed two hits and struck out five Novato Knight Knicks in the second game played Saturday night at Arcata Ball Park.