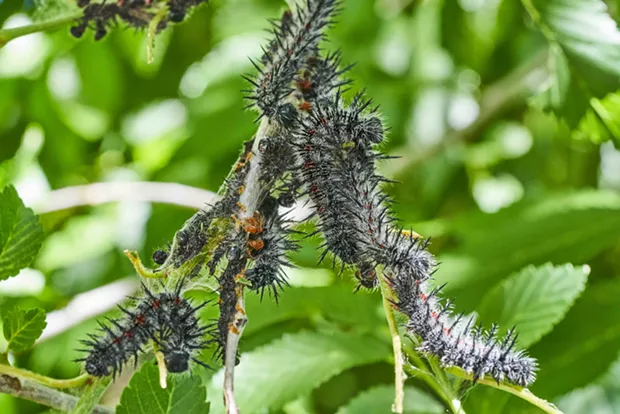 Photo by Anthony Westkamper
Mourning cloak caterpillars mobbing elm branch.
The walk started off noticing my neighbor's elm tree is infested with mourning cloak caterpillars. They're going to town on one of the branches, stripping the leaves right down to the tough ribs. I didn't tell him. It's a big tree and I doubt loosing a few leaves is going to have much effect on it. And after they pupate they will grace the world with beauty.
Photo by Anthony Westkamper
What those caterpillars will eventually become.
This is the season to see one of the largest dragonflies we have, the western river cruiser. Black with yellow markings, this species patrols open spaces and can frequently be found resting, hanging with its long legs from brush alongside roads. One pair was "in wheel," as their mating configuration is known. Although mating in dragonflies is complex, it seems to work as they've been around since long before the dinosaurs.
Photo by Anthony Westkamper
Western River Cruisers (Macromia magnifica) "in wheel". Male clasps female behind the head with his tail, she inserts tip of her abdomen into his secondary sex organ that will remove sperm from any previous coupling before insemination from this partner.
I took advantage of a tiny butterfly that managed to get in focal range. Although butterflies are one of the families of insects that are particularly well known, I had some difficulty identifying her. An online acquaintance finally got it down to a female echo blue.
Celastrina echo
, echo ... Who says entomologists don't have a sense of humor?
Photo by Anthony Westkamper
An echo blue.