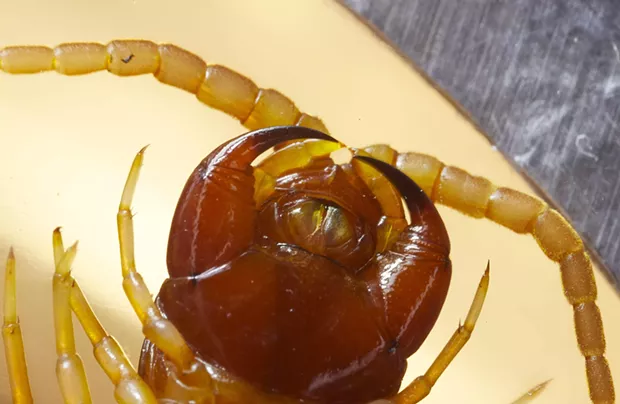 Photo by Anthony Westkamper
The business end of the centipede, believed to be Scolopocryptops gracilis, no common name.
Looking closely at more crawling critters than most folks, you'd think I'd get used to them. But there is one critter that still holds a Class 4 creep factor for me: the common centipede. If you could cross a spider and a snake, centipedes would be the result. Flexible, fast and venomous — in their world they are a force to be reckoned with.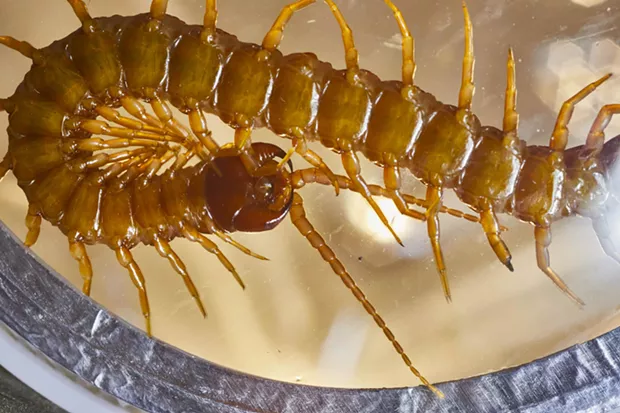 Photo by Anthony Westkamper
At about 4 inches long this centipede was just too long for my macro lens.
The most common and largest I've encountered hereabouts seem to be members of the bark centipede family, Scolopendromorpha. Found under logs, they are brick red, some specimens measure nearly 4 inches long. The "fangs" on the underside of their head, technically called forcipules, are actually highly modified legs complete with venom glands. No known centipede is considered lethal to a healthy adult human and I've never encountered anyone that's been bitten.
While "centipede" translates to "hundred foot," since adults have an odd number of body segments, and only two feet per segment, it is impossible for any species to have exactly 100 feet.
Photo by Anthony Westkamper
Mylitta crescent butterfly on Queen Anne's lace.
At the other end of the cuteness scale are the little Mylitta crescent butterflies. I've been seeing a great many of these little guys out and about nectaring on Queen Anne's lace and vigorously defending their territories. This species can have multiple generations in a year and their larvae feed on thistles, altogether a good thing.
Photo by Anthony Westkamper
Variegated meadowhawk basks in the sun.
Once again the migratory dragonfly, variegated meadowhawk, is gracing our county. I have photographs every winter of this particular species going back to 2010, when I first noticed one on a cold sunny winter day. Surviving frosty nights and temperatures which put windowpane ice on puddles is unusual for what is considered a warm season order of insects.
Photo by Anthony Westkamper
Variegated meadowhawk photo for positive ID.