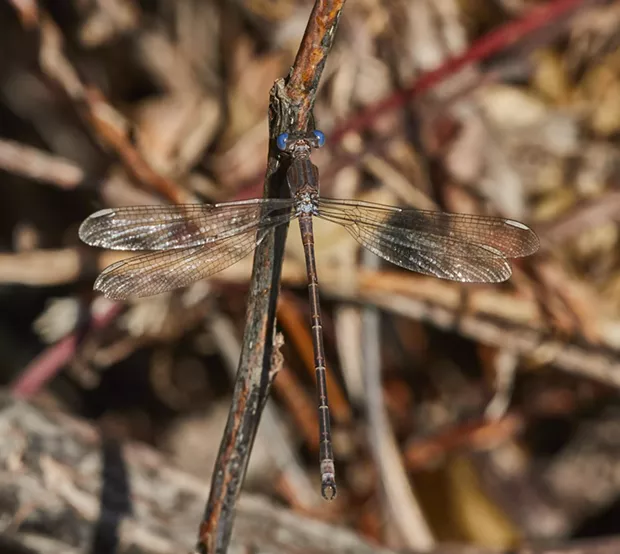 Photo by Anthony Westkamper
California spreadwing shows blue eyes. Damage to its wing indicates this is an old specimen.
The unseasonably warm and dry weather seems to be to allowing some species of insects to linger later in the year than I've seen before. Among them are two damselflies. I checked my archives, and this is the latest date in the year I've ever noted either the rubyspot or California spreadwing (
Archilestes californica
).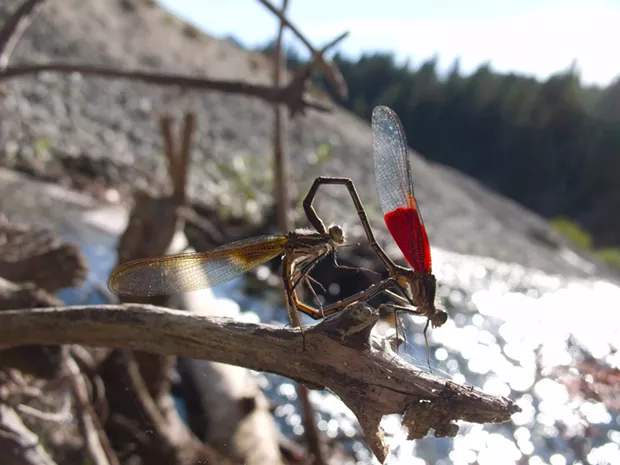 Photo by Anthony Westkamper
Rubyspots in "wheel" configuration earlier in the season.
I don't really have one favorite bug; I have many. Some for intriguing lifestyles, some for their oddity and some for sheer beauty. One of the latter is a male damselfly, the American rubyspot (
Hetaerina americana
). Like most damselflies, they fold their wings over their back when resting, hiding the brilliant red coloration which gives this common fall species their name. Like all members of Odonata (damselflies and dragonflies), they are predators. Taking up a prominent perch usually overlooking water, they chase after anything that flies within a couple of meters.

Photo by Anthony Westkamper
American rubyspot sticks the landing.
So, I set my camera for a high speed-series of exposures, took up a position and waited. And waited. Finally, it dashed out but was out of my field of view before I managed to press the shutter release. It did return, however, while I was still holding down the button allowing me to capture some frames as it stuck the landing. The red on the wings is prominent but even the images produced by my best camera/lens combination lose something. I suspect the wings reflect into the violet part of the spectrum, which does not transmit well through optical glass lenses. Some insects can see farther into the ultraviolet than we can. This may make the gaudy coloration even more attractive to a potential mate or intimidating to a rival.
I mentioned that unlike their cousins the dragonflies, damselflies usually rest with their wings folded over their backs. The exception to the rule is the family known as "spreadwings" (lestidae). I think these may be what I call "relict" populations — now out of the business of reproduction, they are merely living on instinct until cold weather kills them off.