Photo by Anthony Westkamper
Disintegrating robber fly. It took more than 280 exposures to compile this image.
Looking for something to write about this week, I remembered back in June I posted a photo of a robber fly cannibalizing another one. When it was done, it flew away leaving the dead victim's carcass in the weeds, so I collected and mounted it.
Surprisingly, it fell apart, the back half of it disintegrating into little fragments. Presumably this was due to the digestive juices it had been injected with and the fact that its killer drank the liquified connective tissues that held it together. All was not lost however. I decided to use it as a model to compare my two best cameras in a focus stacking competition. Such a detailed photostacking examination of a partially digested fly could only help my standing in the nerd community. Like many members of the family Asilidae, this one sported a mustache that would make a walrus blush with envy.
Photo by Anthony Westkamper
A walk along the Van Duzen River was too cold to produce many insects but I saw several small craneflies nectaring on coyote brush (
Baccharis pilularis
), which is blooming right now. For the most part adult crane flies do not eat but this seems to be an exception.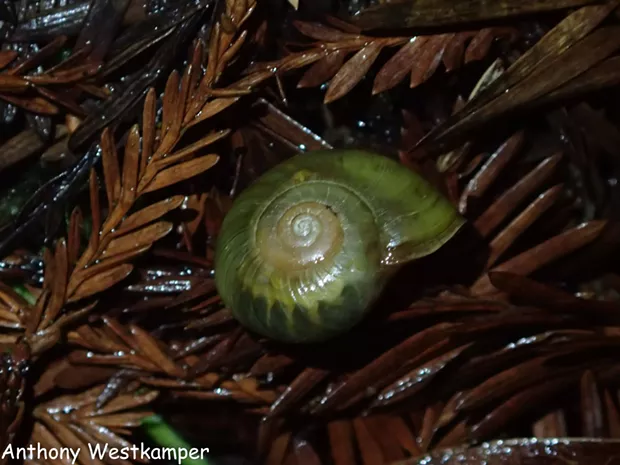 Photo by Anthony Westkamper
Glow worm dining on snail and lighting up its shell.
After three days of rain, I went out tonight and found four of our local glow worms (
Pterotus intergrippinis
) in the leaf litter under my redwood trees. These earthbound relatives of fireflies hunt snails and glow to warn predators that they aren't desirable food. In the spring, adult females may glow as well to act as homing beacons so their non-glowing mates can fly to them.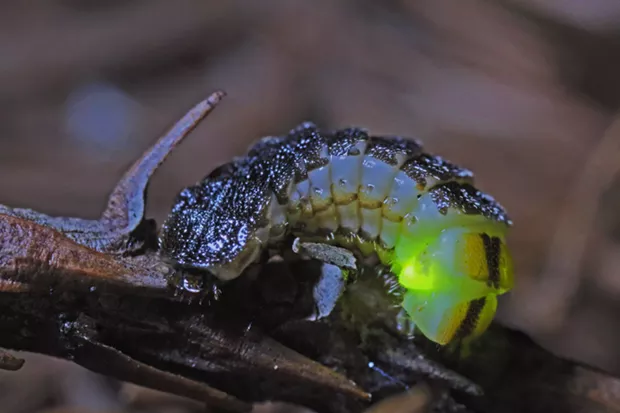 Photo by Anthony Westkamper
Female glow worm.