Photo by Anthony Westkamper
The last shot I'll get of one of these rubyspots until next summer.
Following up on last week's post of photos of the American rubyspot (
Hetaerina americana
) male, I decided to try to get a better shot of the wings. Relying on the fact that this species is extremely territorial, I found him in exactly the same spot. This time I got closer and waited until he flew after a mayfly. I took a rapid fire series of exposures. The next day the rains came and, despite returning to the spot several days, I haven't seen him. I think he's gone for good. Maybe next year I'll see his son there. I wonder what their instinctive selection criteria are for a good perch.
Photo by Anthony Westkamper
Glow worm on redwood needles.
With the waining of the local flying predators comes the waxing of the glowing ones. A half mile walk along a fir lined country road on a drizzly night produced an even dozen of our local glow worms (
Pterotus obscuripennis
). The damp weather brings out the small snails on which they feed.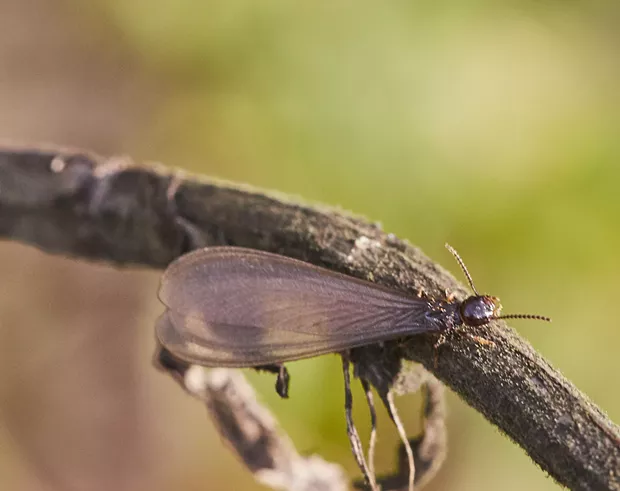 Photo by Anthony Westkamper
Most likely a western subterranean termite (Reticuliterems hesperus).
Following one of the first rains of the season, the sky was littered with tiny fluttering things. Overhead a dragonfly swooped by, gobbling them up on the wing. The soft bodied, black, 1-centimeter-long insects sported four disproportionately large, translucent, gray wings, which they shed almost as soon as they landed. These are the future royalty of the next generation termite colonies. Termites have been in the spotlight lately. Their status as a separate order (isoptera) has been rescinded. It turns out they are just a highly social
family of cockroach
. They are incredibly important in the ecology of many parts of the world, and may be
contributors to global warming
, releasing large quantities of CO2 and methane into the atmosphere. One area of Brazil the size of Britain holds
200 million termite mounds
, some over 3000 years old. Hereabouts I believe this annual emergence in the fall provides a large nutritional resource to overwintering predators, including fish, spiders, bats and birds.