Photo by Anthony Westkamper
Tick on a blade of grass.
Head's up: It's tick season again. It seems they like damp weather. My archives show photos of them primarily in April to May and December to January. In the last week, I've pulled one off a dog and one off a friend who had one on her arm. Even if you haven't been outdoors where they wait in the weeds, they can hitch rides on pets that do. You can read more about them in my April 12, 2015 post
here
.
Photo by Anthony Westkamper
A Pterostichus beetle uncovered when I overturned a rock.
Being cold-blooded, most insects spend the winter months dormant as eggs, larvae or pupae, awaiting longer days and warmer weather. Still, some adults persist secluded under rocks like some locally common ground beetles of the genus
Pterostichus
. This family of beetles is highly predatory, consuming all manner of small invertebrates.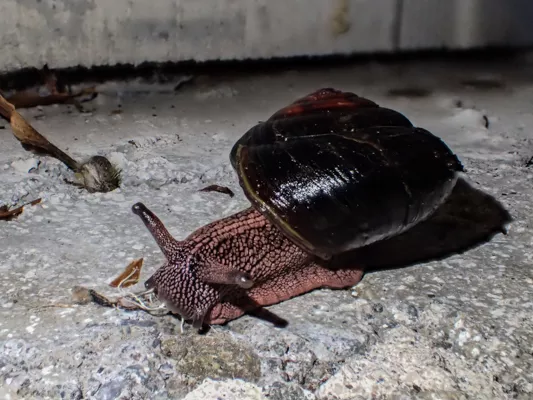 Photo by Anthony Westkamper
Pacific sideband snail portrait.
On a recent night walk, I noted quite a few Pacific sideband snails (
Monadenia fidelis
), the largest native land snails in our area, attaining a width of 2 inches across the widest part of their shells. This species uses "love darts,"in their mating process, a detailed explanation of which is available on
Wikipedia
.
Photo by Anthony Westkamper
Glowworm gets clotheslined in slow motion.
However, I have seen one of our local glow worms attack a full sized example of this species after a slow motion battle that took about 10 minutes — the snail clotheslined the glow worm and got away, leaving the attacker mired in a gooey sticky bubble bath.