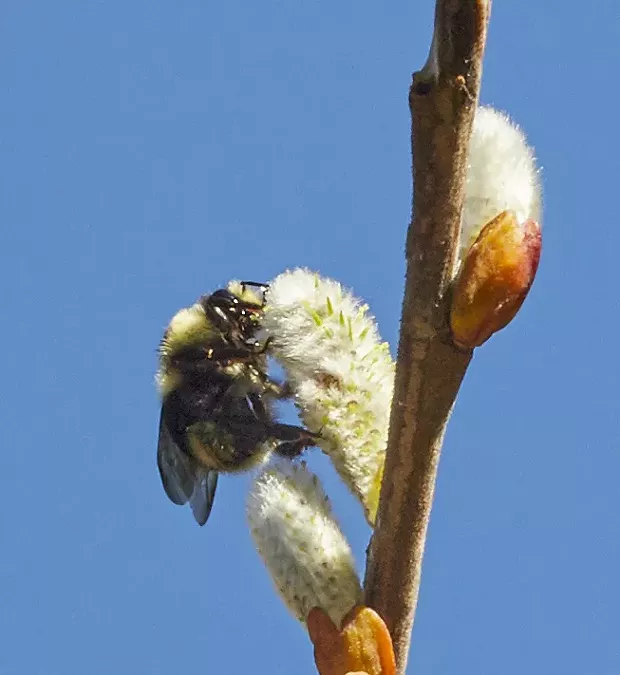 Photo by Anthony Westkamper
Bumblebee on willow catkin.
The pussy willows are just starting to bloom along the river and, being pretty much the only game in town, they're attracting the early birds of the insect world.
Bumblebees, adapted to cool weather, were out and defending their territory by circling around me at a dizzying pace. These are the next generation of queens that will soon establish new colonies, usually in holes in the ground like abandoned gopher burrows. Unlike honey bees, the colony does not overwinter. Only fertilized females live through the cold season, re-establishing their entire society anew each year. They were interesting to watch methodically working from the bottom of each catkin to the top getting all the nectar from each of the tiny flowers of which they are composed.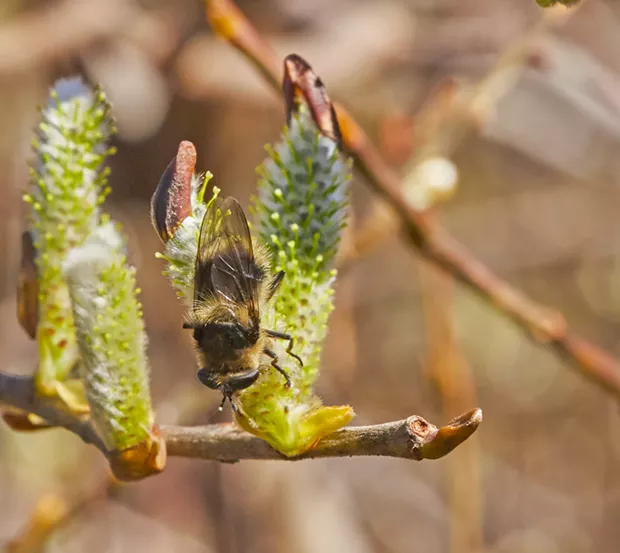 Photo by Anthony Westkamper
Bee mimic fly on a willow.
Along with two different species of bumbles there was a single bumblebee mimic Syriphid fly. Harmless and inoffensive (no stinger), they mimic their bee model in not only appearance but in behavior, dining on nectar from the same flowers and thereby providing pollination services for the same plants.
Photo by Anthony Westkamper
Tiny wasp or bee on a willow.
In the undisturbed sandy spots dozens of tiny bees or wasps (I'm still working on an ID) flew inches above the ground and stopping to dig holes. They took breaks to feed on nectar from the willows.
Photo by Anthony Westkamper
Tiny wasp or bee basking in the sun on sandy spot.
There is all sorts of drama in the outdoors. On the way back home, a dead umbel from last year's Queen Anne's lace caught my eye. Seeds, unable to disperse had germinated trapped in the dried out flower. Captive like a princess in a tower, unable to reach the ground for nourishment, they will languish there until they die.
Photo by Anthony Westkamper
Queen Anne's lace captive seeds.