Photo by Anthony Westkamper
Celastrina echo butterfly as we usually see them.
After a few false starts it feels like spring is finally underway. Days ago, a walk in the woods with my dogs produced a tick. I've said before I do not like ticks but as a community service I try to give a heads up when I see them about.
I also kicked up what I believe was an Echo Azure (
Celastrina echo
) butterfly. These tiny shiny blue butterflies flit along the damp places of the river bar. Unfortunately, when they land, they usually hold their wings over their back exposing the gray undersides and hiding the bright blue uppers. Only occasionally opening them when perched and displaying to attract a mate.
Photo by Anthony Westkamper
Celestrina echo, my best photo of the upper side of one's wings, so far.
A couple of days later, apparently dining on trillium pollen, I noted some tiny black beetles with which I was unfamiliar. I posted my best photo and was delighted someone responded identifying it as most likely a member of the family Nitidulidae, most likely of the subfamily Meligethinae, also known as "pollen beetles." These small beetles feed on pollen and in traveling from flower to flower assist in pollination.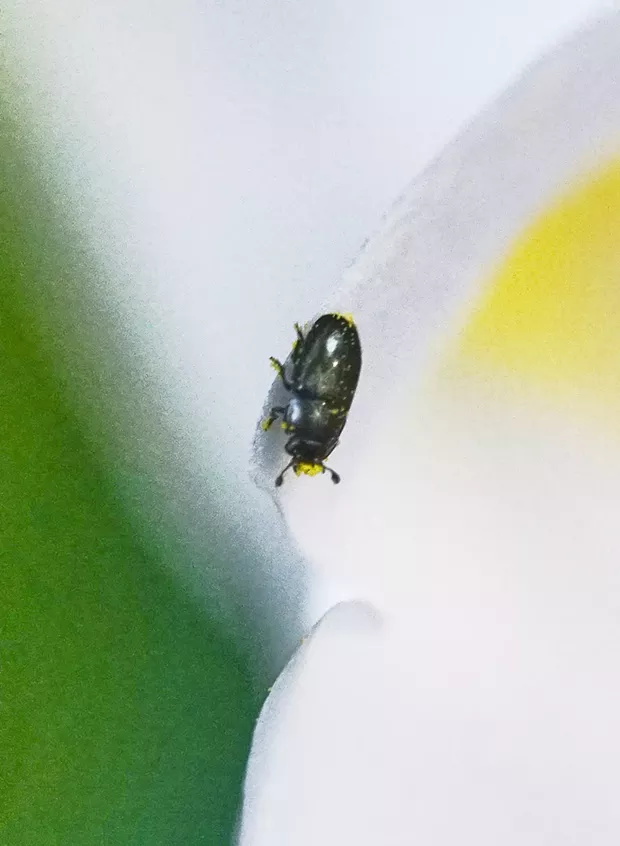 Photo by Anthony Westkamper
Tiny pollen beetle.
I was able to get several photos of one of the nervous brick red butterflies which stopped to feed on willow blossoms. Although I knew it was an anglewing the complex of butterflies of that group is sometimes confusing. I was able to get some online help identifying it as well. It is a green anglewing (
Polygonia faunus
). Those raggedy edges on their wings are not from mishap; that is the way they grow. When their wings are closed, their gray undersides are almost invisible against tree bark.
Photo by Anthony Westkamper
Polygonia faunus, aka green anglewing.