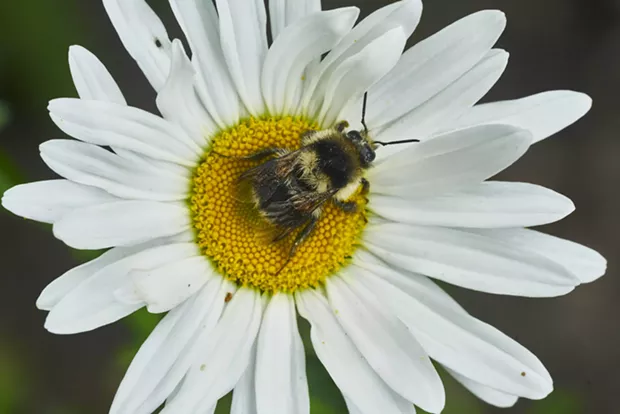 Photo by Anthony Westkamper
Bumblebee on daisy.
Driving along U.S. Highway 101 lately, you see patches of newly emerging ox-eye daisies (
Chrysanthemum leucanthemum
). As idyllic as they might seem from a distance, there's a lot going on up close. This European species was introduced to North America in the 1800s and has become widely naturalized. Although considered an invasive weed by some, their seeds are often included in wildflower mixes.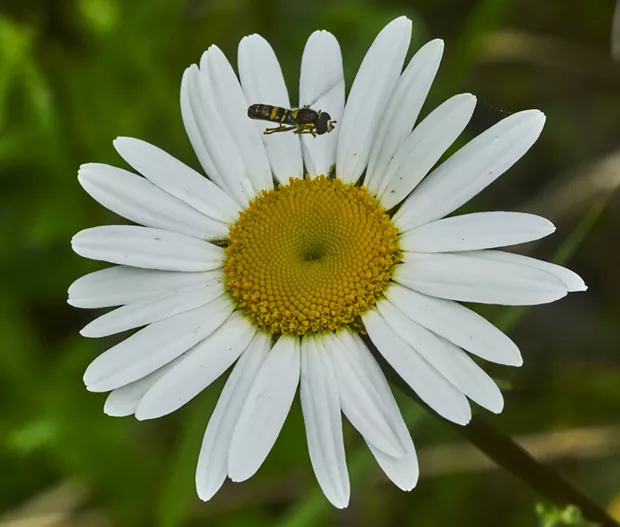 Photo by Anthony Westkamper
Syrphid fly inspects a daisy before landing.
Regardless how we humans view them, the local insects see them as a boon. Patronized for nectar and nutrient rich pollen, a cute little patch can support a surprising amount of activity. Flower or hover flies (family Syrphidae) are frequent visitors. Often marked with a yellow jacket's black and yellow warning markings, they are harmless.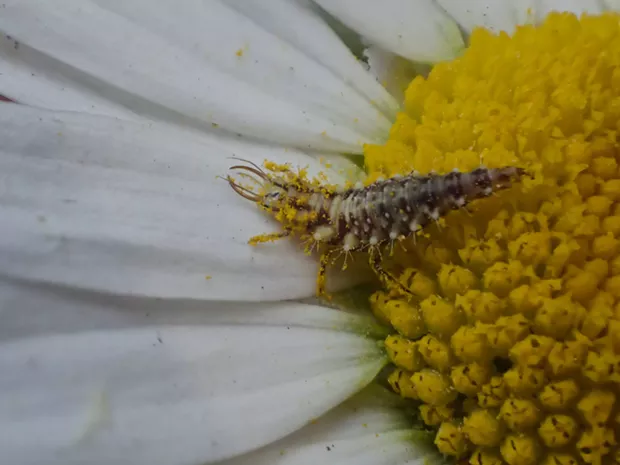 Photo by Anthony Westkamper
Looking like the "earwigs" from the Star Trek movie, "The Wrath of Khan," a lacewing larva hunts.
The tiny florets of which the disk is composed attract bees both large and small.
There are pollen eating beetles, as well, that can be found covered with the stuff.
Of course, all those grazers attract predators, including lacewing larvae.
Photo by Anthony Westkamper
Crab spider takes a honeybee.
The biggest and most numerous hunters are the flower or crab spiders (
Misumena vatia
). I've seldom seen even a small a patch of daisies without at least one lurking among the petals. Dedicated ambush predators, they use no web but long strong front legs and a quick acting venom to immobilize dangerous prey even larger than themselves.
While I was capturing the images for this week's post, I noted a tick waiting patiently nearby. Tis the season, so please be careful as you venture outdoors.
Photo by Anthony Westkamper
Suspended on a head of rattlesnake grass (Briza maxima), a tick awaits a potential host.