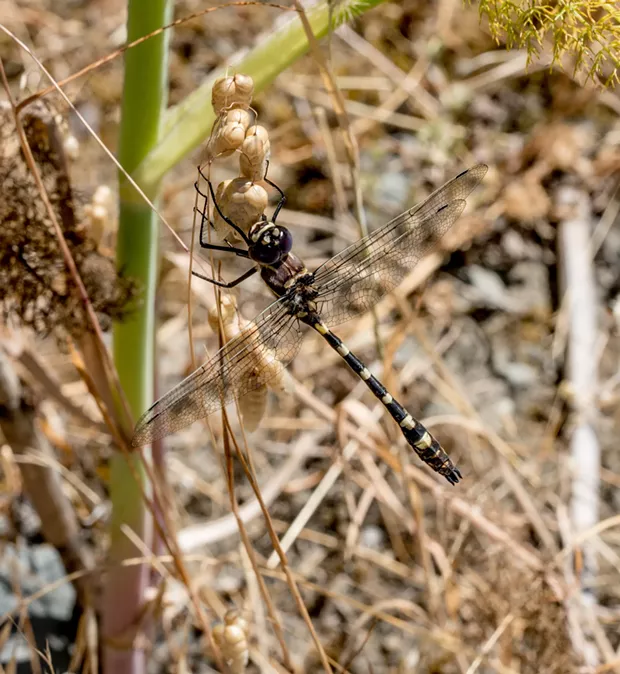 Photo by Anthony Westkamper
A western river cruiser.
I have seen alarmingly few dragonflies along my stretch of the Van Duzen River this year. Where I'm used to seeing dozens in a day, I'm seeing one or none. About the only species I've seen recently hereabouts is the large black and yellow western river cruiser (
Macromia magnifica
) patrolling along gravel roads parallel to the river's course. Dragonflies, being an apex predator in their arena, can be an indicator of the overall health of a stream.
Today I saw the first common wood nymph (
Ceceronis pegala
) of the season. Having one brood per year, and often foraging on fruit past its prime, they are my hint that fall is on its way. Although the species can vary in its coloration throughout its extensive range hereabouts, these are a rich, dark cocoa powder brown.
Photo by Anthony Westkamper
A common wood nymph.
I've been enjoying using the newest addition to my entomological book collection
Butterflies of the Pacific Northwest
. This is a durably built softcover book of more than 400 pages. It is heavily illustrated with photos and has enough technical information to be useful — as approachable as it is exhaustive. If you live in Cascadia and are interested in butterflies, this is the book to get.
Photo by Anthony Westkamper
A bold feathered grass moth.
Lately I've also seen several specimens of
Herpetogramma pertextalis
, the bold feathered grass moth, around lights at my house. Along with its markings, when at rest, they hold their antennae swept back in a graceful pair of intersecting curves, making this species one of my favorite small moths.