A walk along the Van Duzen River on a warm, sunny day can produce some surprises. Today I spotted a dragonfly which is new to my "life list" (a term I've adopted from my birding friends).
Libellula pulchella
, the 12 spotted skimmer. Named for the total number of black spots on their wings, they are common elsewhere, but this is the first of this species I've seen in our area. According to the texts, they normally hang about marshy locations, not rocky riverbeds. So this fella is unlikely to meet up with a lady 12 spot, and make little 12 spots, so his selection of locale is unlikely to be passed on.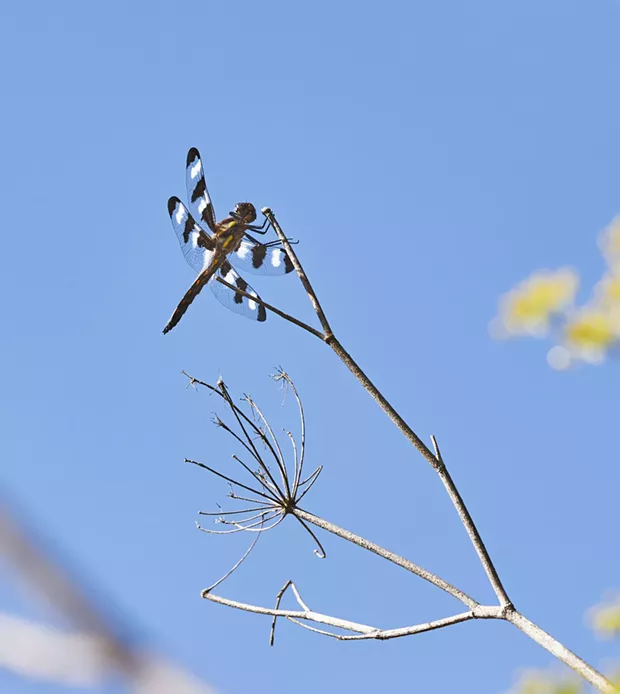 Photo by Anthony Westkamper
A male 12 spot dragonfly.
A little ways away is a small patch weeds which was hosting some of the tiniest bees I've ever seen. Both females and males were were about 3 or 4 millimeters long. Female bees can usually be distinguished from male bees by the presence of scopa, or pollen collecting hairs either on the hind legs or on the bottom side of their abdomen. Although identification from photographs is challenging, their small size leads me to suspect these are of the tribe Perditini which contains some of the smallest bees in the world.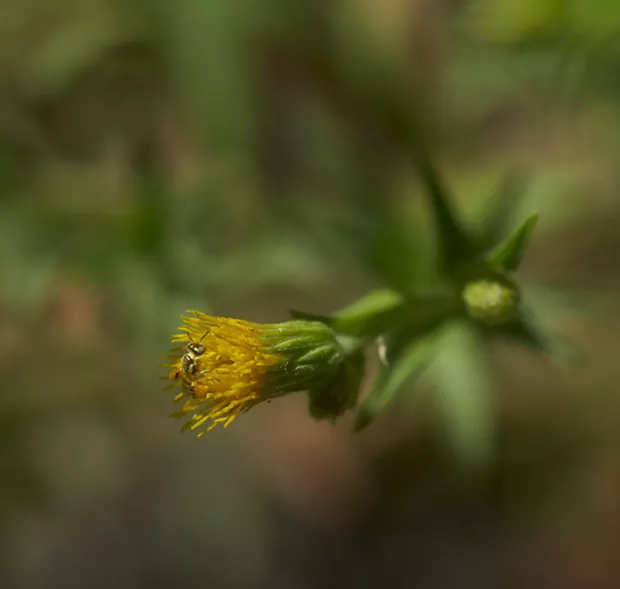 Photo by Anthony Westkamper
A teensy female bee.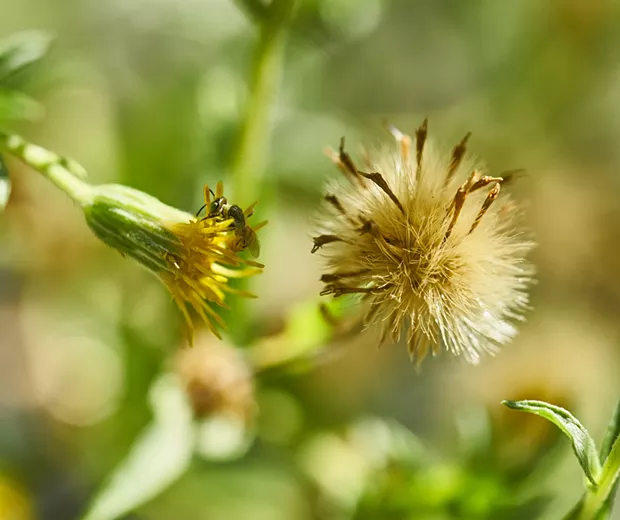 Photo by Anthony Westkamper
And a teensy male bee.
Another patron of that particular patch of weeds was a sand wasp. Although colored and patterned much like the aggressive social yellow jacket, this is a solitary nesting species which specializes in hunting flies.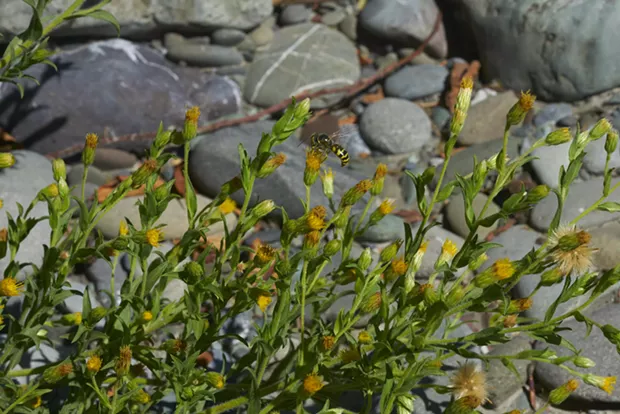 Photo by Anthony Westkamper
A sand wasp nectaring.
While parasitoid wasps stock a larder with paralyzed prey then seal up the cell and are done with it members of the genus
Steniolia
practice "progressive provisioning," providing new food to their offspring as they grow, much like birds. Being solitary species they cannot afford to be aggressive because a fatal encounter ends their lineage, so they tend to be flighty, nervous feeders.
Photo by Anthony Westkamper
A sand wasp with her fly wings peeking out from behind her abdomen as she digs down to her offspring.