One of the most common questions I get as a bug guy is, "What's the difference between butterflies and moths?" Although most consider them separate clades within the order lepidoptera, another answer is "maybe nothing." Some authorities regard butterflies as a day flying sub group of moths.
Photo by Anthony Westkamper
Western tiger swallowtail (Papilio rutulus).
Their lifestyles are very similar. Starting life as eggs usually deposited on the plant on which the young caterpillars will feed. They chew leaves and in some cases cause extensive damage to their host plant. As they grow, they shed their skin about five times before they into a resting phase (pupa) where they transform from the caterpillar to the final (usually winged) adult phase we think of. With some exceptions, they live as adults for only a few weeks.
Photo by Anthony Westkamper
A western tiger swallowtail caterpillar.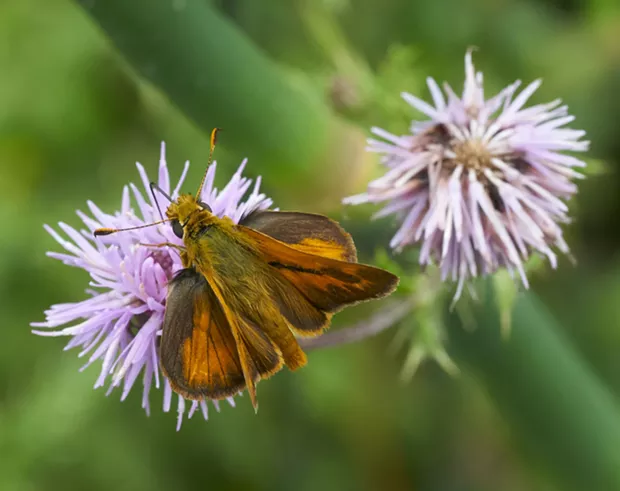 Photo by Anthony Westkamper
Woodland skipper (Ochlodes sylvanoides).
The order name lepidoptera translates to "scale wing," referring to the tiny overlapping scales which cover their wings. Anyone who's handled one of either group probably knows they become dislodged easily. I've theorized this gives them some defense against sticky traps like spider webs and sundew plants. The scales stick but, being easily shed, the insect can often pull free and escape. Kind of like talcum powder on adhesive tape. It doesn't always work but increases the chances of survival enough that the characteristic is preserved through generations.
Photo by Anthony Westkamper
Anglewing butterfly showing knob structure characteristic of butterfly antennae.
Butterfly antennae have a slender stalk, with a knob at the end giving it an overall shape like a Q-tip. There are only a few varieties of moth have anything similar. Moth "feelers" run the gamut from very plumose (feather like) to slender filaments.
There are day flying moths, although I know of no night flying butterflies.
Photo by Anthony Westkamper
Plumose moth antenna.
Butterflies almost always rest with their wings folded up over their backs. Keeping them open is an active effort usually to display either staking out a territory or trying to attract a mate. Some small skipper butterflies hold their wings like a delta jet. Most moths assume flat or roof like poses when at rest.
Photo by Anthony Westkamper
Polyphemus moth (Antheraea polyphemus).
The polyphemus moth is our largest and the western tiger swallowtail is our largest butterfly.
Photo by Anthony Westkamper
Acmon blue (Icaricia acmon).
Depending on the time of year individuals of the species Acmon blue vary from small to what may be the smallest species of butterfly in our area. Some of the smallest moths are only 1 millimeter or so long and are difficult for even specialist experts to identify without a microscope.