This week I started to write about spiders and ended up buying a book on mosquitoes. In the recently published book
The Mosquito: A Human History of Our Deadliest Predator,
author Timothy Winegard calculates nearly half the people who ever lived died of mosquito bites.
Photo by Anthony Westkamper
A mosquito skates on the water surface, most likely laying eggs in a pan of water in my backyard.
To put things into a modern perspective, mosquitoes kill on average 750,000 people per year, mainly in tropical countries. Some estimates range as high as 1 million.
Photo by Anthony Westkamper
Western tree hole mosquito (Aedes sierriensis), the most common carrier of canine heartworm disease my backyard.
Some years ago a friend brought up the question why some countries with great resources and histories much longer than the U.S. were so undeveloped. At the time, off the cuff, I replied that I thought the local diseases had suppressed productivity in those lands. Malaria, yellow fever, dengue, chikungunya and West Nile to name a few, not only kill, but reduce the vitality of the living sufferers and survivors, damaging not only the physical ability to work but mental capacity as well. All this results in economic depression, social upheaval and further misery.
Photo by Anthony Westkamper
Black and yellow Agriope female and two suitors. Photo taken very near a children's playground. No humans died.
While our cool temperate climate shelters us from the worst of them climate change and attendant changes in the ranges of vector species may cause that to change.
In a recent
article
in
The Science of Nature
, scientists have calculated that worldwide spiders consume about 500 million tons of insects annually. They are the largest destroyer of insects in nature. There can be little doubt that at least some of those pesky little vampires fall victim to the webs and fangs of arachnids.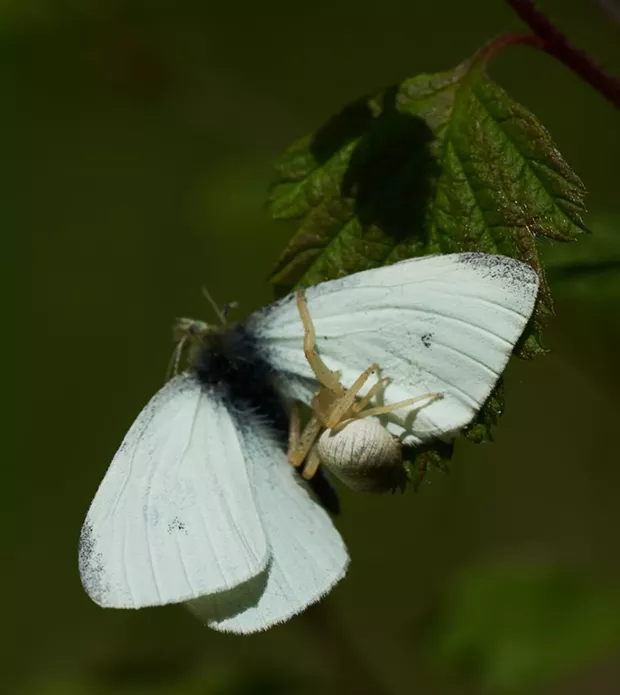 Photo by Anthony Westkamper
Goldenrod crab spider (Misumena vatia) consumes common garden pest, cabbage butterfly (Pieris rapae).
Human fatalities from spider bites are so rare it is difficult to glean any reliable statistics on them. The best I found was 6.6 per year in the U.S. Extrapolated to the world's population, that comes out to be about 23 per year globally. Adding a fudge factor for tropical climates and underreporting in third world countries we might make that up to an even 100. So setting aside the "creep factor," spiders may well be our biggest ally in the war against human disease and suffering.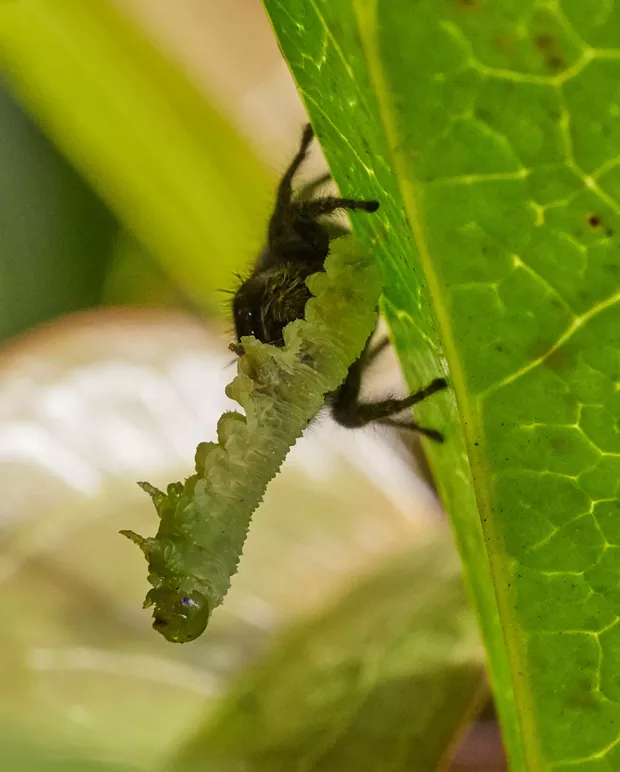 Photo by Anthony Westkamper
Jumping spider consumes a small caterpillar in my garden.
Interestingly enough, while there are antivenins for most of the known dangerous spiders, an effective malaria vaccine has yet to be developed.
Photo by Anthony Westkamper
Cellar spider (Pholcus sp.) wraps up a yellow jacket in my back room.