There are next to no flowers blooming now. Most adult insects have lived out their lives, their eggs and larvae sequestered in anticipation of winter. The showiest life is along the river. The large body of moving water moderates the temperatures and many species employ this time of reduced predator numbers to complete their lifecycles unmolested.
Yesterday I did see a monarch butterfly, presumably migrating South toward Mexico. Their miraculous lifecycle having been disrupted in many ways so there is a movement to plant Milkweed in gardens and plots along their known migratory lanes. Theirs is a multi generational journey and their young depend on milkweed as food. Their bodies not only tolerate the plant toxins, but concentrate them in their tissues which makes them toxic to many predators.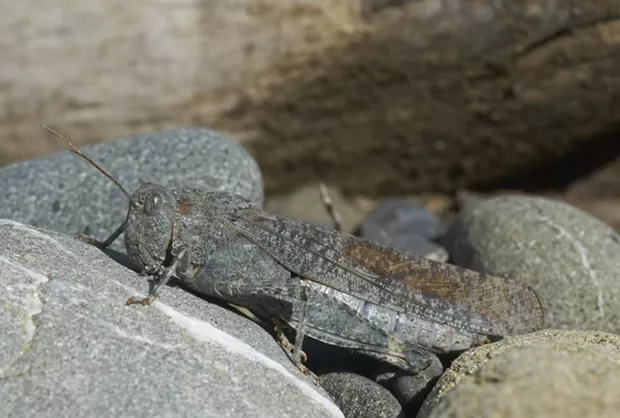 Photo by Anthony Westkamper
Carolina grasshopper blends into the rocks behind.
Cryptically colored Carolina grasshoppers (
Dissosteira carolina
) are still with us. They leap forth and fly on white edged black wings, occasionally startling us as we walk along the river bar.
Sitting in my favorite place to see shadow darner dragonflies (
Aeshna umbrosa
), I don't have long to wait. They follow a predictable route that takes them about 15 minutes to complete. Working their way upriver, they check out every one of the myriad little nooks and crannies along the brushy parts of the river's edge.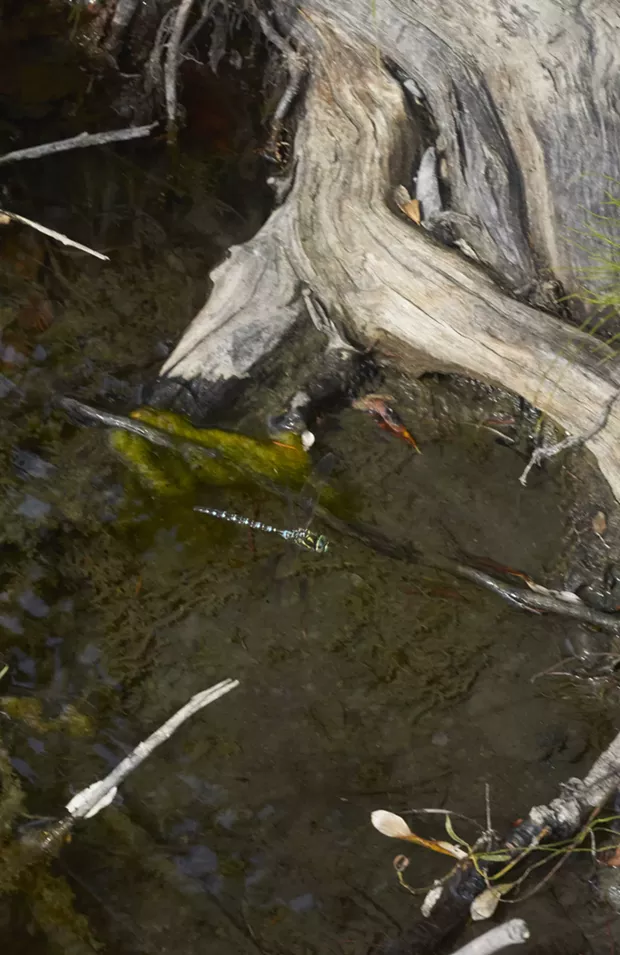 Photo by Anthony Westkamper
A shadow darner dragonfly scours every little recess along a river bank.
Completing one leg, they head for the open middle water and fly straight downstream, only to resume their patient investigation. This fairly large spices is apparently more cold tolerant than most, as it flies later into the evening and later in the fall than other dragonflies.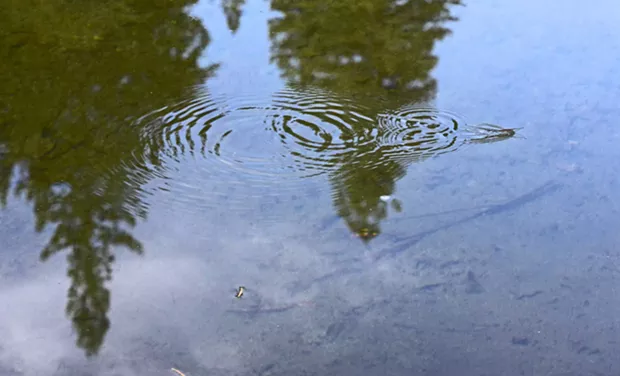 Photo by Anthony Westkamper
A water strider makes wake as it races along the surface.
Water striders hunt year around in the two-dimensional world of the water's surface. While all species are capable of land walking and most adults can fly, they are clumsy in these environments. They are however the undisputed masters of skating on the surface tension film. Their senses are superbly attuned to vibrations in the water so they are seldom taken by predators, above or below.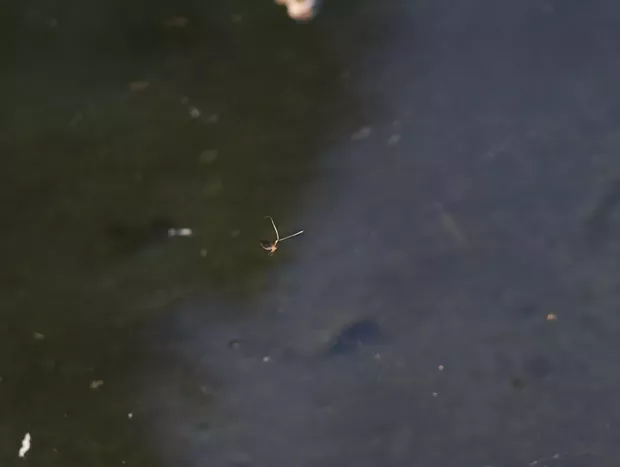 Photo by Anthony Westkamper
Dozens of little, dark, long horned caddisflies strive to attract mates.
Never emerging in the overwhelming numbers of mayfly hatches, I see
dozens of caddisflies every evening, dancing like tiny black crepe paper ghosts as they seek mates over the dark water.