While I was doing a bit of outside work atop a ladder, several tiny chalk white dots flew with slow grace. They often appeared almost magically as they meandered through shafts of sunlight and then disappeared into the shadows. They were out of range of my cameras and I was too busy to investigate.
Photo by Anthony Westkamper
Wooly Aphid on my fingertip. the "Smoke" over its head is actually a cloud of fine filaments.
The following day, however, when I saw them again, I was armed with a good camera and had my feet firmly on the ground. I reached out and scooped one from the air. On the wing it looked more like a tiny bit of ash than a living thing, but in hand it turned out to be a "wooly aphid," most likely of the subfamily Eriosomatinae. They grow tiny white filaments of waxy exudate. Many members of this group cause galls on herbaceous plants and can carry plant diseases.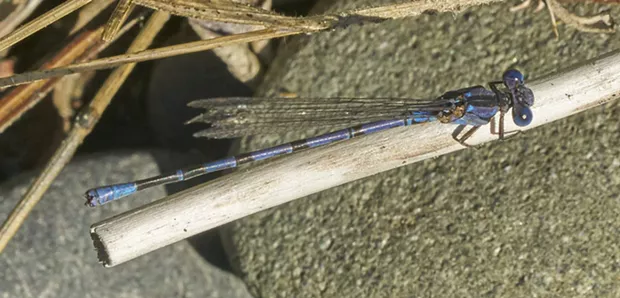 Photo by Anthony Westkamper
Vivid dancer cleared up a case of mistaken identity.
A tad farther along, I saw a damselfly. On downloading the photos, I thought it might be an Emma's dancer, the only lavender insect I know off hand. But this specimen had blue patches on it and a few minor markings didn't quite match, so I posted it in a local Facebook group and got an authoritative ID from an expert. This was not Emma's, but a vivid dancer. In this case the word "vivid" is not just descriptive; it is actually its name (
Argia vivida
). Its unusual color may be from it having gotten cold.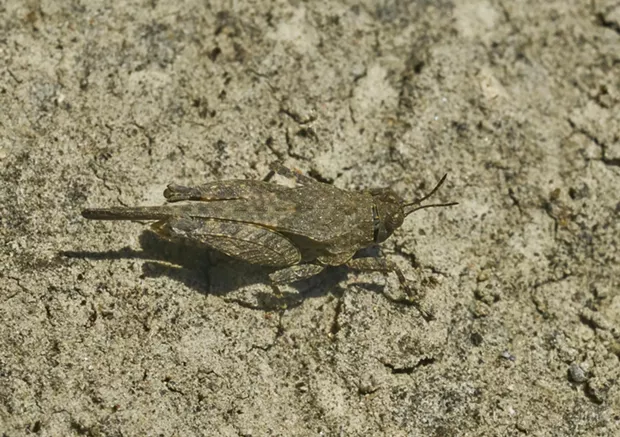 Photo by Anthony Westkamper
A grouse locust.
I saw two grouse locusts, which resemble tiny grasshoppers to whom they are closely related. At about half an inch long, they can be found along stream banks where they eat algae from the rocks. Unlike their larger relatives, they can and do overwinter.
Photo by Anthony Westkamper
The flower fly, a harmless wasp mimic.
Finally, a flower fly caught my eye nectaring on a coyote bush. Mimicking a wasp's black and yellow warning coloration may give this inoffensive species some protection from predation.