A quick walk along the Van Duzen River turned up one each variegated meadowhawk and shadow darner dragonflies neither of which allowed me to get close enough to get a photo. It's OK, I have hundreds of shots of the meadowhawk and dozens of the shadow.
We got glimpses of a California sister butterfly, a cabbage butterfly, and an American rubyspot damselfly. They were all too active for pictures.
Photo by Anthony Westkamper
Mylitta crescent, notches out of its wings show it has been around.
There were several mylitta crescent butterflies (
Phyciodes mylitta
) that did allow me to get almost close enough. Thank goodness I had my highest resolution camera, which allowed me to blow up and crop the pictures while maintaining some image quality. My favorite of the day shows a bit of wear and tear revealing it has had an adventurous life.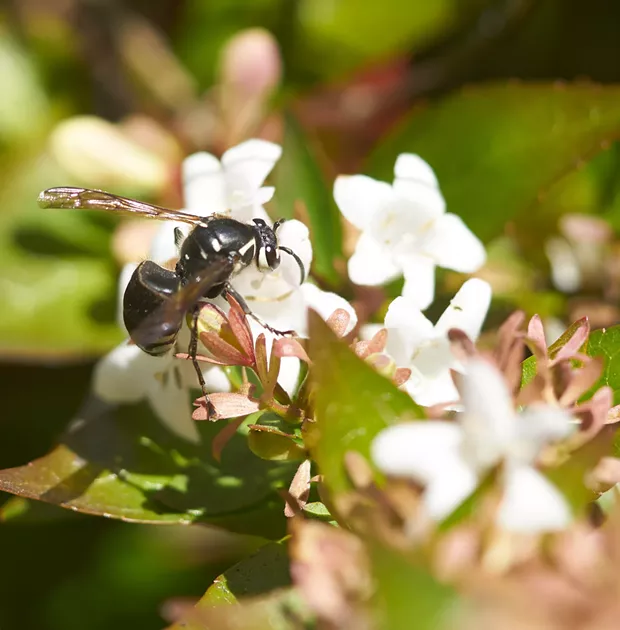 Photo by Anthony Westkamper
Bald faced hornet sips nectar.
A bald faced hornet was working my neighbor's shrub. Although they have the reputation of being nasty tempered and aggressive, I haven't really found them to be that bad, allowing me to get close enough for portraits without any mishap. I have heard them buzz their wings making an unusually threatening sound when I've gotten close. I backed off and there was no mishap. They can be very protective of their nest, however.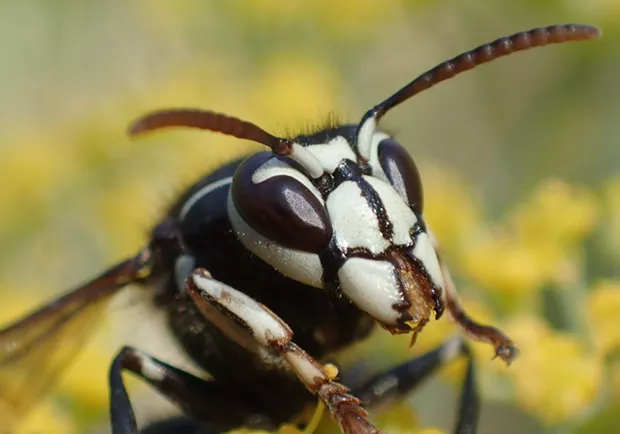 Photo by Anthony Westkamper
Bald faced hornet closeup and personal.
I've found several metepeira spider webs lately. Usually suspended about head high in a bush, it is a messy web that conceals a small orb, giving the genus its common name, labyrinthine orb weaver spider. You have to look for the orb hidden in amongst the random strands. Also they construct a tubular retreat of dried leaves near the center of their maze. This web form is diagnostic for this genus.
Photo by Anthony Westkamper
Labyrinthine orb weaver spider's web shows a portion of the orb web concealed in the maze and her retreat.
Late last evening I noticed a small moth on my bathroom wall. I recognized it as a plume moth, which gets its name for its hind wing, which is more like a bird's feather than a wing membrane characteristic of most insects. This feature is usually difficult to see when they are at rest since they conceal the hind wing under the more normal front wing. This one was posed with its wings over its back and I took the shot. Afterward I examined it more closely and found it wings were being held in that unnatural pose by a strand of spider web. I released it and sent it about its business.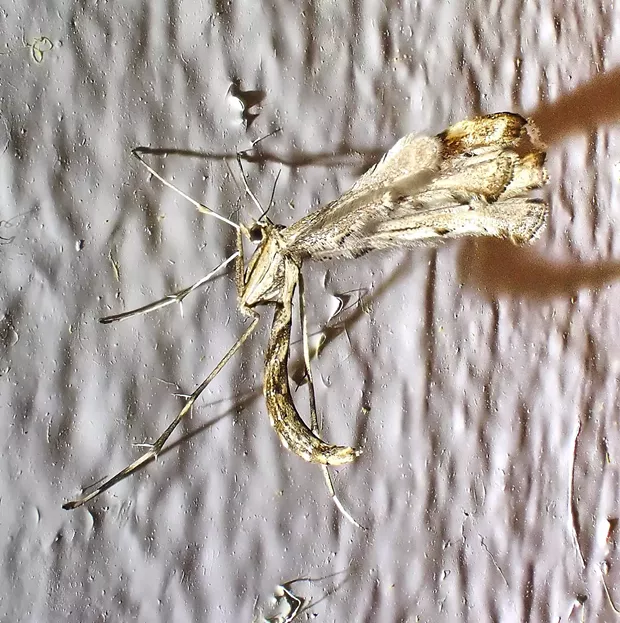 Photo by Anthony Westkamper
Plume moth wings in unusual wings over back shows fringe of the "plume" hind wings.