Back on Oct 2., 2016, I posted an article on the infestation of western black widow (
Latrodactus hesperus
) spiders at the
Carlotta Post Office
. Just this week my wife and I had occasion to visit the area again. Guess what?
Photo by Anthony Westkamper
Cell phone photo of black widow crossing sidewalk in front of Carlotta Post Office.
As we strolled along the walkway directly in front of the post office, I nearly tripped over a large black spider. One look an I knew they were back. Adult widows are distinctive. Their backs are very black (juveniles sport white markings), as if they had been carved from a piece of obsidian. Their abdomens have a distinctive red or orange hourglass mark. This one was definitely not a
false black widow
, like those I wrote about on Nov. 3 this year but the real deal.
Photo by Anthony Westkamper
False black widow for comparison. Note no hourglass and maroonish color.
There were two much smaller (and less dangerous) males in the web. The nearby restaurant was kind enough to provide me with a to-go cup and I collected her. My wife courageously offered to hold the cup (lid firmly in place) as I drove home. It is a wonder she puts up with me. (Editor's note: Don't try this at home, folks.)
Photo by Anthony Westkamper
Cell phone photo of male black widow in web on front of Carlotta Post Office. Note hourglass.
In my experience, widow spiders are pretty common. It is surprising there aren't more unfortunate interactions with them. They are usually timid creatures, reluctant to expend metabolically expensive venom. I have only met one person who has experienced a verified bite and subsequent hospitalization. She lived outside of Fallon, Nevada, and rolled over on it in bed. It bit her on the back of the knee. She described it as similar to a bee sting and it woke her up. Her husband collected the spider for positive identification. The first day's symptoms were't too bad but by the second day she was very sick. She said on the third day she thought she was going to die and then she gradually got better over the next two weeks.
Photo by Anthony Westkamper
Black widow ventral side. Note the hourglass is incomplete, composed of two unconnected triangles. This is a normal variant.
I've found black widows are one of the most challenging species to photograph. Their inky black surface blends many features into a solid black blob and their shiny texture picks up highlights which can obscure details. I resorted to a technique I developed for getting a good shot of
centipedes
: shooting through Saran Wrap which is crystal clear, stretches smooth and is strong enough to contain them. And keep them away from me.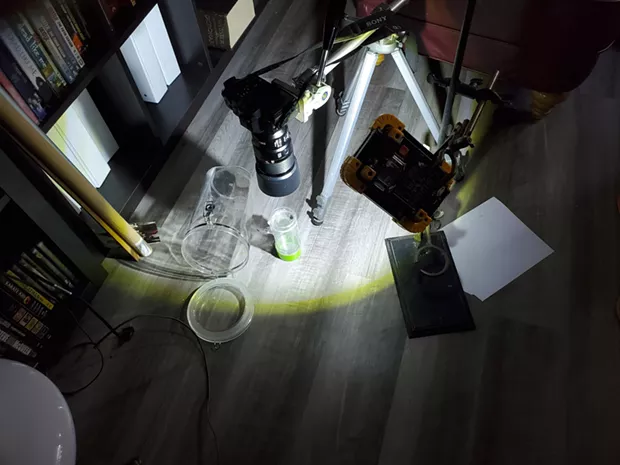 Photo by Anthony Westkamper
Photographic setup to contain and photograph dangerous arthropods. Note: open wire bail jar to store other jar in when not shooting.