I had to remind myself it's still winter as I watched a mourning cloak (
Nymphalis antiopa
) and two smaller orange butterflies flutter by, too high and fast to get a photo of. The orange specimens were most likely rustic anglewings but there are several other locally common species which overwinter as adults, emerging on warm winter days. Painted ladies and tortoise shells, to name two.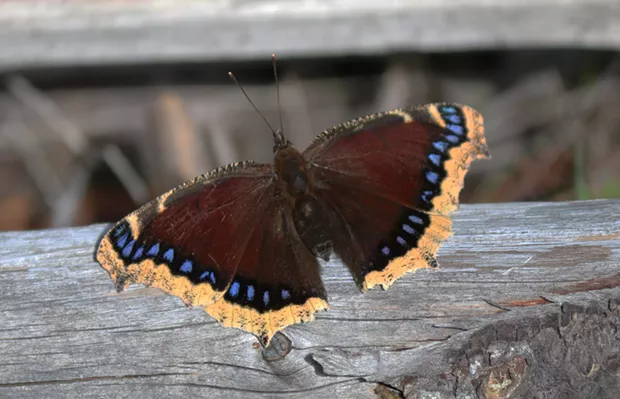 Photo by Anthony Westkamper
In England, the mourning cloak, known as the Camberwell beauty, emerges from its winter hiding place to frolic on warm winter days.
Biology and entomological texts say this "strategy" gives species practicing it a jump start over others which spend the cold, barren months of winter completely dormant as eggs, larvae or pupas.
Photo by Anthony Westkamper
Anglewing butterfly shows "raggedy" edges to its wings which in this case are perfectly pristine.
I'm not fond of the term "strategies" biology types use in conjunction with insect behaviors usually involved with survival or reproduction. I think it implies intent and insects have far too few brain cells to think ahead, relying on inherited instincts honed by millions of generations of evolution instead.
Photo by Anthony Westkamper
California tortoise shell can, in some years have population explosions.
Be that as it may, they were a welcome sight as I headed outdoors. If your strategy for warm days involves getting out in the fields and woods, please be sure to check for ticks. In the last couple of weeks we have removed half a dozen or so from our Chihuahua, Nefesh.
Photo by Anthony Westkamper
Considered the most cosmopolitan butterfly, the painted lady is found on all continents except Antarctica and South America.