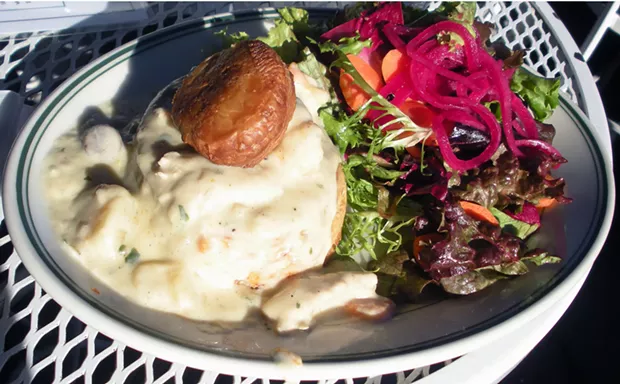 Jennifer Fumiko Cahill
It's just cold enough to justify puff pie for lunch.
Let's talk about your last chicken pot pie. Was it frozen? Be honest. It's not your fault — those Stouffer's commercials make their sandy-crusted flying saucers seem like a homecoming, with the family around the table, the rising steam … They never show the lonely person peering into the oven window or the tragic tongue-burn that makes a rubbery cube of what was once poultry even more bland.
While not strictly a potpie, the Chicken Puff Pie at Arcata's Cafe Brio would never do that to you ($11.85). The meat is tender, roasty chicken in a creamy sauce — that is, made with cream that you can taste and revel in, not gelatinous fake gravy — a little white wine, carrots, meaty mushrooms and potatoes. The stewy goodness runneth over from a buttery puff pastry "crown" with a hole punched out of the top layer. Hence the little pillbox hat on top. Because once you're having something rich, why not have it on what amounts to a croissant? Those fuschia rings on the salad are pickled onion, not beets — a nice tart something to balance things out. And see? All those lonely feelings are gone.