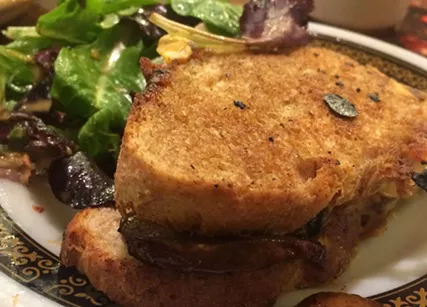 Jennifer Savage
You're a naughty vegetarian sandwich, and you need to be punished.
When you name something the "XXX Adults Only Grilled Cheese Sandwich," you're making a statement. A reader sent in an email tip about her favorite order at Lost Coast Café and Bakery (468 Main St., Ferndale), and her flustered description of the sandwich read a bit like vintage Penthouse Forum. The first time I ordered it, I forgot my camera and had to borrow a woman's phone to snap a lurid photo of it. She never sent me the image — maybe she wanted to keep it for herself — and I can't really blame her.
The XXX is a pile-on of cheddar, jack and feta cheeses melted over grilled onion, zucchini, mushroom, tomato and jalapeno — just enough for a little heat — on grilled homemade wheat bread ($7.25). Beyond homemade, actually, since chef Mario Lorenzo mills the local wheat himself. Who
does
that? The same guy who whips up the pesto aioli slathered on the bread. Don't try to pick the XXX up like a diner grilled cheese; this is a fork and knife situation. The thick, crusty-edged slices of bread are too tender to support the fillings, and you want to eat it, not wear it. Or maybe you do — the lingering smell of pesto aioli is sexy as hell.