Jennifer Fumiko Cahill
Step aside, turducken.
Word came in over the wire that Wild Oaks Grill had its notorious Chicken Bombs earlier this week ($10). Those are chicken breasts stuffed with hot sausage, pepperoni or shrimp, along with cream cheese and jalapeno peppers, then wrapped in smoky bacon and barbecued. Take a moment there. They're not always available, which is probably best.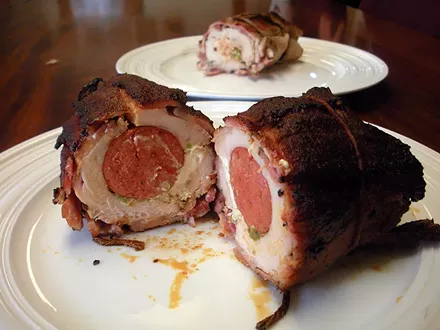 Jennifer Fumiko Cahill
Fire in the hole! Hot sausage chicken bomb.
The bacon alone is worth it — thick cuts of the meaty stuff on all sides — and it keeps the chicken underneath juicy. The red circle of sausage in each slice and the soft, pale green pepper are enough to give your face a little color, but the dollop of cream cheese cools things off a bit. The shrimp-stuffed bomb is a little more uptown — the cream cheese melts into the little bay shrimp like a sauce, and it's not as spicy as the sausage variety. Both are going in our
Hurt Locker
of deliciousness that almost killed us.
Dismantling the bombs is a hot mess after the initial slice, but it's still more dignified than "just eating it like a hotdog," as one person suggested. After all, we may be eating meat stuffed with meat and wrapped with more meat, but we're not animals.