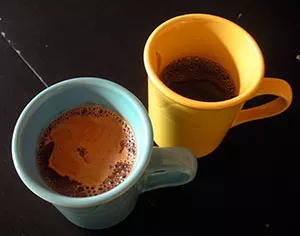 Jennifer Fumiko Cahill
Sipping chocolate for chocolistas and other upstarts.
We look at chocolate as a luxury, as a sinful indulgence. But back during the French and Indian War, it was part of a soldier's rations. Nutritious, medicinal and as necessary as a pouch of tobacco. And a good deal of the scheming, plotting and fomenting for the American Revolution happened over cups of drinking chocolate.
Over at Old Town Coffee and Chocolates, you can nurse a half cup of sipping chocolate like a revolutionary ($2.95 for a small). It's not hot cocoa, and no marshmallows are required. Instead, it's thick, warm, not overly sweet and all that you hoped the chocolate fountain at your cousin's wedding would be. It is deeply satisfying enough to be dessert, but socially acceptable as a coffee break order. You can even get it with a shot of espresso (50 cents extra) — "Look at me, nose to the grindstone, fueling up for more hard work!"
Do not feel ripped off when you see the small portion in your mug — you could go with a large ($3.50), but not everyone's chocolate tolerance is high enough to withstand a full mug without cocoa-drunk-dialing all of his or her exes. Those colonials knew to take it easy with the stuff. The Historic Williamsburg website quotes the 1770
Virginia Almanac
's cautionary words "warning 'the fair sex to be in a particular manner careful how they meddle with romances, chocolate, novels, and the like,' especially in the spring, as those were all 'inflamers' and 'very dangerous.'" Hear that, ladies? Crack open a novel and drink up.