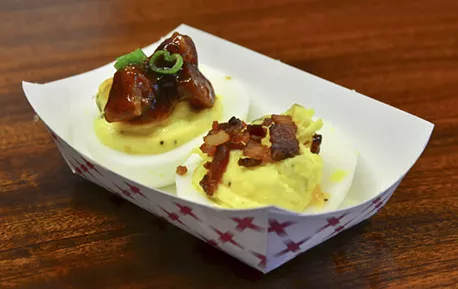 Drew Hyland
Dainty bites at Humboldt Smokehouse.
You know that deviled egg recipe your aunt is so stingy with? Nobody wants it anymore. Instead we'll be trying to recreate the ones at Humboldt Smokehouse (310 Fifth St., Eureka), topped with house-smoked bacon or pork belly, barbecue sauce and green onions ($1, $1.50). They have the tiniest bits of tart pickle to balance the richness, and, as my companion pointed out, they would be perfect with a cocktail. Which is weirder, bringing your martini into a barbecue joint, or bringing your own hors d'oeuvres to a bar?
Drew Hyland
Sexiest $4 sandwich ever.
My only complaint about the joint up until now has been the staff's inability to save me from myself. Because as delicious as it is, the Cincinnati burnt ends sandwich — piled with smoky chunks of meltingly fatty beef brisket — is too much for me to finish comfortably and too good for me to choose comfort ($10 with a side). The children's sandwich, however, with half the meat — still a solid fistful — and a slice of smoked cheddar on a sesame bun, is just as delicious, but doesn't leave me incapacitated ($4). Is this really a child's portion? Michelle Obama may disagree, but if she tucks a napkin into her cardigan and takes a bite, she's not gonna stay mad.