Jennifer Fumiko Cahill
Loosen your lederhosen — that's a lot of spaetzle.
Now that the US has been punted from the World Cup finals by Belgium, we could use a little comfort food. How about German? Too soon? Off to Stuf't Potato (if you haven't been, don't worry — it's not nearly as food-court as the name suggests) for German and Austrian soul food (3200 South Broadway, Eureka).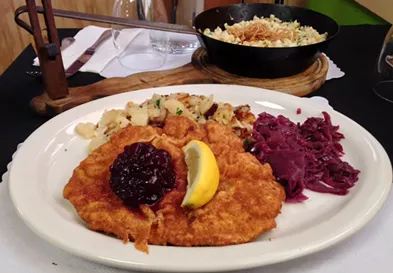 Jennifer Fumiko Cahill
Schnitzel with a squeeze of lemon.
The Journal has received reliable intel regarding the weiner schnitzel, which sounds like sausage but is actually a pounded, breaded and fried pork cutlet ($11.25 a la carte). It's pinky-thin and tender, with a simple, crisp coating that's balanced by a squeeze of lemon and a dollop of cranberry preserve. On the side (yes, even a la cart) is more contrast in the form of a warm pile of pickley-sweet red cabbage. The fried potatoes are so perfectly browned and seasoned you will forget Americans put ketchup on them. A black pot full of fried spaetzle with a wooden stand showed up in front of the young man from Berlin at the next table ($7.95). I'll have what he's having. Buttery nubs of pasta pan fried with onion, parsley and gruyere cheese and topped with frizzled onion comes off like a none-too-salty Teutonic mac and cheese. It's rustic and satisfying with the earthy and aromatic gruyere. As you dig into your own little cauldron, you might wonder why the Italians spend so much time turning pasta into fancy shapes.
Jennifer Fumiko Cahill
This is why streudel is one of Julie Andrews' favorite things.
The Berliner recommends the Viennese apple streudel, which arrives hot and dusted with powdered sugar — don't blow on it or you'll cover everyone at your table ($3.95). The crust is soft and flaky on top, caramelized on the bottom and stuffed in the middle with firm, cinnamon spiced apples. Hell,
ja
.