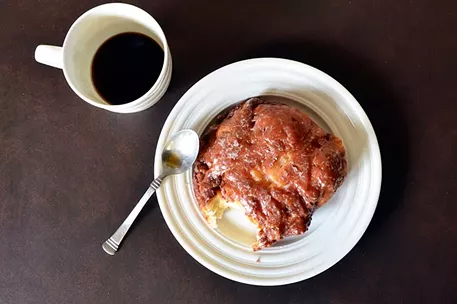 Drew Hyland
Fried, dark and handsome.
In vain have I struggled. It will not do. My feelings will not be repressed. You must allow me to tell you how ardently I admire and love the apple fritter at Happy Donuts
($2.75). Jane Austen would forgive me. After all, is this not the Mr. Darcy of doughnuts — Crusty and intimidating, a little puffed up and with no pleasing sprinkles. But the edges and imperfections of this great lump of a thing are encrusted with glaze and dotted with tiny, juicy bits of apple. It's not greasy and leaden, either, but browned and crispy.
This enormous, landed cousin of the humble doughnut is a breakfast food, a dessert, an afternoon coffee treat and, if necessary, a kind of edible shield behind which you could hide your face if, like a moody hero, you were not feeling social. Sharing is probably wise, given the sheer mass of the fritter, but hangry people are not always wise.
I'll just have a nibble,
you think. Then you reach back into the bag and find it half empty. As Austen wrote of falling in love, "I was in the middle before I knew I had begun."