Jennifer Fumiko Cahill
Street waffles are a sign of a just society.
Toni's Thai truck is no more. Its cook has returned to Thailand, leaving us bereft of green curry and jasmine rice on wheels. The shiny red truck has been transformed into the Redwood Local, parked at Seventh and I Street in Arcata. Embrace the change and the meta-weirdness of truck stop fare from a truck. The fried chicken and waffles are solid, despite not being from scratch ($7.59, $2 for country sausage gravy). The joy is in being able to get hot waffles curbside. That's how they do it in Belgium, which the International Human Rights Indicator Rankings put at eighth in the world, right up there with those Nordic countries full of safe cars, high-design furniture and smoked salmon. Street waffles: sign of a just society.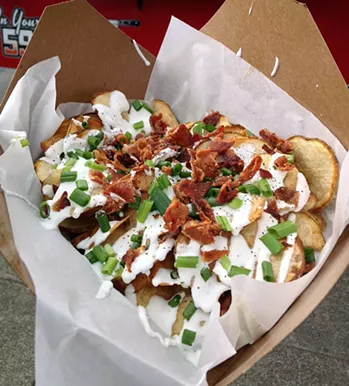 Jennifer Fumiko Cahill
Potato thins with bacon: the love child of nachos and potato skins.
But the show-stopper is a paper tray of potato thins ($4.99). Not as thin as potato chips, the slim slices of spud are deep-fried until soft with a crisp edge of brown skin here and there, and topped with sour cream and scallions. For $1.99, you can add a handful of chopped bacon. Do not live a life of regret. Add the bacon. They are like the love child of potato skins and nachos. They are best hot, so have your own little tailgate at one of the picnic tables. Even if we are all the way down at 18 on those human rights rankings, this is the taste of America.