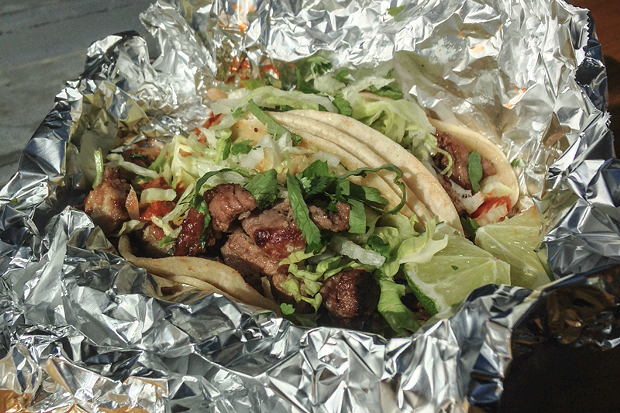 Jennifer Fumiko Cahill
Korean tacos worth a schlepp.
The Bering Strait, scientists speculate, could have once been a land bridge between Asia and North America. Just a hop, skip and a jump across some glaciers, and yet we've had to wait thousands of years for that hybrid of Asian and Mexican cuisine, the Korean taco. It's a schlepp to to the Creamery District parking spot of the Taco Faktory truck on L street between Ninth and 10th streets in Arcata (tacos also show up at Richard's Goat Tavern & Tea Room on occasion), but not when you consider that hike across the Bering Strait.
Or when you get your $4 pair of Korean barbecue beef and pork tacos. (There are whispers about Thai burrito, but it only shows up on Wednesdays.) The warm corn tortillas are heaped with pyramids of smoky-sweet, juicy meat seasoned with deep-red Korean chili paste and topped with cilantro, lettuce and onion. Instead of brooding impatiently over a table-top grill and pretending to follow conversation with your Los Angeles friends while you wait for your next bite of meat to cook, get instant gratification. A squeeze of lime and you're there. You're not the boss of me, changing sea levels and shifting land masses. Mere geography cannot stop destiny. Or the Korean taco.