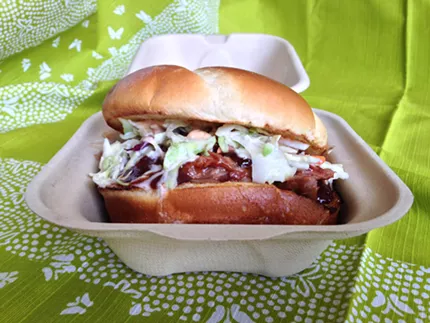 Jennifer Fumiko Cahill
Pulled pork tastes like freedom.
The standard sub at Z & J Asian Subs (2336 Third St., Eureka) isn't so much a Vietnamese bánh mì as an American barbecue sandwich that spent a semester abroad and came back with pickled carrots, cucumbers, cilantro and sriracha sauce. Call it inauthentic, make fun of its souvenir beaded necklace, but you can't fight it — the thing is delicious. And when you've fallen down a Target hole, wandering the aisles of storage tubs and owl-shaped cookie jars well past lunchtime, it will save you from hunger and consumer despair.
But if you need to hear the majestic screams of bald eagles over your lunch, order the Southern pulled pork sandwich ($6.99). The trucker-handful of pork is smoked for 12 hours before it's shredded, tossed with barbecue sauce and scooped along with some red wine vinegar coleslaw onto a toasted brioche bun swiped with lime and chipotle mayonnaise. The brioche (OK, that's a little French, but so is a lot of the South) holds the mess together, but tuck a napkin in your shirt just in case.