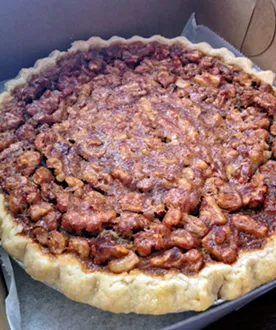 Jennifer Fumiko Cahill
Kentucky Derby pie comes with a kick of Bourbon.
This far northwest, Southern cooking is exotic. Slice of Humboldt Pie (Redwood Acres, 3750 Harris St., Eureka), in its rotating menu of sweets and savories, features a pair of dueling southerners. First there is the Kentucky Derby pie ($20), which is essentially a walnut pie that got drunk on Bourbon at the track. The crust (part butter, part shortening) is flaky and buttery, holding up at the edges but shattering at the press of a fork — perfect. The filling is similar to pecan pie, but with the touch of walnut bitterness and a scattering of dark chocolate chips at the bottom to offset the sticky sweetness. And it's as boozy as a hug from your Uncle Charlie at the tail end of a wedding.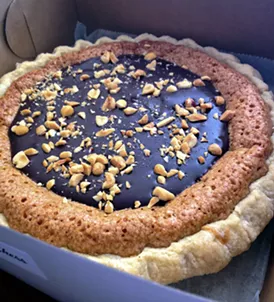 Jennifer Fumiko Cahill
Peanut butter chess pie is a dessert fit for the King.
The more Elvis offering is the peanut butter chess pie ($18). Chess pie is that Southern dessert that embraces sweetness to the point of a diabetic dare. The filling is the gooey goodness between the nuts of a pecan pie without the nuts. Peanut butter mixed into the filling and a layer of chocolate ganache give the pie more substance and flavor. But the scratch-made crust and filling elevate it beyond the standard Woman's Day candy bar pie that makes your teeth ache at a church bazaar. Right now you have to place an order 24 hours in advance for a pie, but by this summer you will be slave to your impulses when Bittersweet, the walk-in establishment the bakers will share with the Local Cider Bar, opens in Arcata. You are warned.