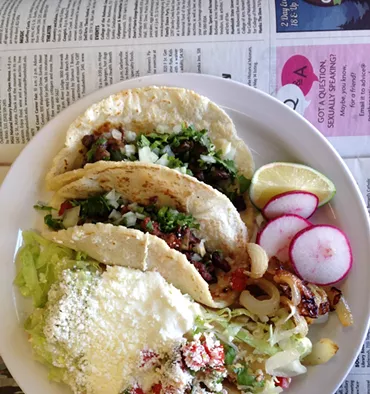 Jennifer Fumiko Cahill
Tacos and flautas at La Partia Solis.
You think you're happy with the damp circle of particle board that is a packaged tortilla. And maybe you are. But a fresh, handmade corn or flour tortilla with its uneven edges and its delicate chewiness is to the hard-edged pre-packaged kind as a crackling, oven-warm baguette is to a slice of Wonder. Sure, there's a time and place for the mass-produced stuff (late at night, with a jar of Nutella, under the cold scrutiny of your cat). But up against homemade? It's not even a fair fight.
Two crews of happy, well-fed construction workers ambled out of La Patria Solis (1718 Fourth St., Eureka) yesterday. According to the waitress, everybody got the pastor and asada tacos ($2.49 each). The homemade corn tortillas are soft, warm and thick, cradling handfuls of chopped grilled steak with onion and cilantro. The asada has a little char to it, and the red marinade of the pastor is tangy and spicy, playing nicely off the sweet corn tortilla.
Wait, the flour tortillas are homemade, too? We're getting flautas — beef, because I think one of those construction guys got the last of the lengua ($2.79 each). They come with sides, but you can order them a la carte and they'll show up with some grilled onions on the side and a hefty dollop of sour cream and queso fresco on top. The cigar-like rolls are still tender, not over-fried, and the flavor of the tortilla reminds you why you will never really break up with white flour. Let the cat judge you for that.