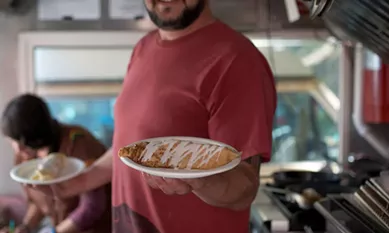 Drew Hyland
Crepes rolling out of the Hum Grown Grindz truck.
The appeal of a crepe is its delicate nature. Sure, you love the lumberjack-powering stack of flapjacks meant to send you off to either haul timber or drop back into bed like a felled tree. But crepes are the pancake's refined French cousin, impractical, requiring special pans. Crepes are art for art's sake.
Drew Hyland
Yes, those are little sliders and crepe fixings all on one tiny range.
Hum Grown Grindz, the red food truck that can be found lately parked at Bigfoot Supply in Willow Creek (41212 State Route 299) seems an unlikely source, but it's cranking out both sweet and savory varieties. The chicken chipotle pesto crepe is so stuffed it's thinking about being a burrito ($9). Did you get the wrong order? No, it's supposed to be that creamy, and with the basil, garlic and a little smoky heat, the sauce and tender chicken hit all the buttons. And so pretty! It's easily the fanciest thing you've gotten out of a truck in some time. The crepe itself is substantial enough to hold all that filling, pleasantly egg-y and moist. In fact, it still holds together after a car ride back to Eureka, where office mates descended like a starving French mob on the leftovers, which were still delicious.