Our epic quest to find Humboldt County's best chile relleno got underway this week, with gustatory explorations on Tuesday and Thursday. Our criteria for a good relleno? Stem in, naturally. Poblano pepper or nada. Good ratio of batter to cheese to pepper, with no one aspect reigning supreme. And whatever the Spanish version of
je ne sais quoi
is, that x factor that takes the dish from sufficient to
sabroso
.
TUESDAY
Esmeralda's Mexican Food, 328 Grotto St., Eureka.
The friendly, tattooed waitress assured us that "her mom makes the best chile relleno." Nepotism aside, our first bite revealed she just might be right. Cheese was soft and oozy, complementing the puffy, brown batter and the perfectly cooked pepper. There was a nice bite to the pepper, with a sweet burn of an aftertaste. Not bitter, not too hot. The kind of pepper you want to try when you're looking to level up on your spicy game.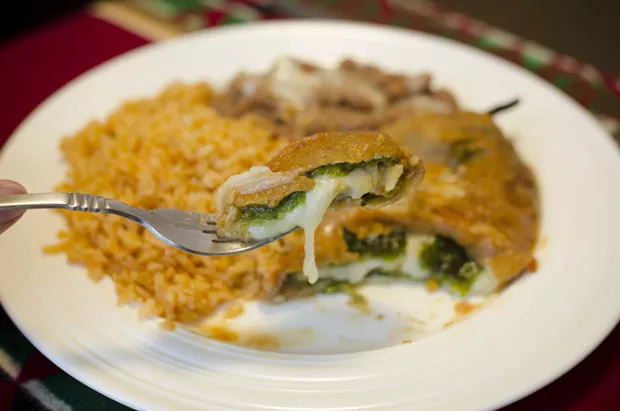 Drew Hyland
A forkful of Esmeralda's chile relleno.
THURSDAY
Pachanga, 1802 Fifth St, Eureka.
So much cheese. We love cheese. Nice, eggy batter. Fantastic, zippy, tomatillo sauce. Ultimately, though, the cheese (stringier and a little more mozzarella-y than Esmeralda's) overwhelmed both batter and pepper. Points for atmosphere: friendly attentive waitresses, a kid's corner and lots of ladies who look like they know what they're doing sweating in the open kitchen. We get why this spot is a local favorite.
Drew Hyland
Pachanga's does not skimp on cheese.
And the winner is ... Esmeralda's! It's hard to override our love of cheese, but when it comes to the
yo no se que
(figured out the translation) of a good relleno, Esmeralda's nails it.
Next week:Eureka Part II. Where should we try? What spots deserve to go head to head against Esmeralda's in the bracket? Let us know here, on Facebook or Twitter. #humboldtsbestchilerelleno