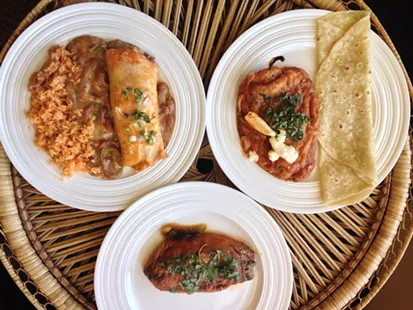 Jennifer Fumiko Cahill
Three chiles enter, all leave ... in our stomachs.
Okay, lovers of Mexican food, we heard you.
You said
last week's entry into the Arcata bracket, the eggy, crepe-y delish dish from
Fiesta Grill and Cantina
, was inadequate competition against the traditional battered and fried version from
Carmela's
. So we returned to that foggy college town and made the rounds again, this time including the late nomination
Valley Azteca
(5000 Valley West Blvd #6).
Jennifer Fumiko Cahill
Mmm, squeaky traditional cheese.
First things first. We called
Fiesta Grill and Cantina
(3525 Janes Road) and demanded (okay, asked politely) a traditional, stem in, battered and fried chile relleno. And it delivered. Man, did it deliver. Check out that squeaky queso fresco dotting the delicious, chewy batter. The batter itself was puffy, a wee bit chewy (reminded us of inari), sodden with rich red sauce. It included a side of above-par rice and beans that had just the tiniest hint of garlic. Well worth dipping into with bits of torn-off tortilla.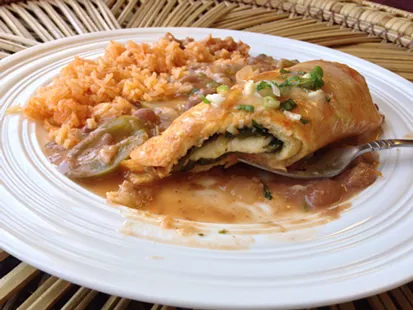 Jennifer Fumiko Cahill
Mexican brunch? We say yes.
Just up the road,
Valley Azteca
proved to be cool and pleasant respite from the week's hot weather. It was our first visit and the tastefully decorated white cantina-esque walls and dark leather booths immediately impressed us. We bellied up to the bar while waiting for our order. The owner explained that the house version was made with an Anaheim pepper. We chose not to be disappointed that it was of the eggy, omelette-y variety, instead focusing on how the Anaheim's bite was complemented by the green onion garnish. The lightness of this chile relleno was refreshing after the solidity of other entrants. Our call? Valley Azteca for your Mexican food brunch, every time. The hole-in-the-wall restaurant opens at 9 a.m. and appears to offer a nice selection of vegetarian items as well.
Jennifer Fumiko Cahill
A deep, dark, satisfying relleno with cilantro garnish.
Our final entrant was that student stand-by,
Carmela's
(1288 G St.). It's hard to describe how much we appreciated the savory sauce this monster was swimming in. We plucked scraps of pepper and onion from its container and savored every last bit of it, holding back from licking the plate only by sheer force of will. As for the chile relleno itself, well, one of our reviewers described it as a "Mexican ravioli." Mmm, that dense, sharp, ricotta-like cheese! That savory batter! We agreed that the flavor in this particular dish was well layered and subtle.
The winner ...
So, we're not going to lie to you guys, this was a nail-biter. We decided to skate controversy and put
Valley Azteca
on the sidelines (again, brunch!), doing a bite-by-bite comparison of Carmela's and Fiesta. With just the tip of each pepper left, we had to call in a tie-breaker. Our production staff left their computers and dutifully picked up their forks, only to reach another stalemate. Too close to call? A fervent analysis began, citing the merits of a bitter pepper, the ratio of batter to cheese, whether the accompanying rice and beans should factor in. In the end, that traditional cheese and spectacular rice and beans won out. Congratulations
Fiesta Grill and Cantina
! Thank you for bringing your A game, and welcome to the lightning round. We will crown #humboldtsbestchilerelleno in our annual Best of Humboldt edition — on newsstands August 13.
But wait ... did we miss a restaurant? We saved room for more. Any last-minute entries? We want to be thorough. Email, comment, hit us up on Facebook or Twitter. Let's do this!