Jennifer Fumiko Cahill
A big pile of little ravioli.
If not the smell of the sauce (or "gravy" as they used to call it), the huge portrait of the owners with a tuxedoed Marlon Brando and young Sophia Loren that hangs in the back room of Roy's Club (218 D St., Eureka) should tip you off that you're in an old-school Italian-American joint. Like 1925 old. So let go of your need to have everything
al dente
for one meal, sit down and eat your spaghetti.
Capiche?
Somewhere on the premises (maybe upstairs?) a pasta machine is rolling out reams of the stuff — spaghetti, ravioli, fettucine — fresh. The smoked salmon ravioli ($11.50 lunch, $18.95 dinner) is filled with house-smoked fish, cream cheese, marscapone and Parmesan. Your plate will be piled with the little squares (a nice change from the enormous throw-pillow variety) tossed in a dill-flecked lemon cream sauce dotted with fat capers — a tartness that works well against both the mild, smoky fish and the cream — and sprinkled with parsley and more Parmesan. Those averse to cheese with seafood are advised to look away as I enjoy mine.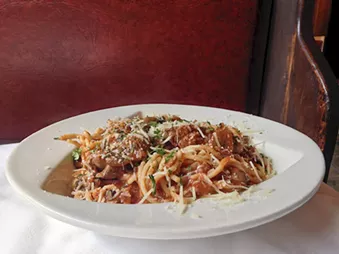 Jennifer Fumiko Cahill
It's OK, liver lovers. Enrico Caruso had haters, too.
Some of us who love the earthy, heavy flavor of chicken liver have been forced to suppress our desires, partly for fear of being cast out and partly because chicken liver is a risky order. Overcooked livers can turn to a dry, gritty paste, and undercooked — no. Just no. Take the chance on the chicken livers Caruso (lunch $11.50, dinner $16.50). It's named for the legendary opera singer Enrico Caruso, so fair warning on the richness. The livers themselves are perfectly done and they add remarkable meatiness to the tomato, Marsala wine and mushroom sauce over thick homemade spaghetti. The depth of flavor and the soft pasta make this a comfort dish that could leave you nostalgic for the old neighborhood (whether or not you lived there). As the story goes, Caruso was booed in Naples for not paying the professional cheer section and so swore off the stages there, saying he'd only be back for the spaghetti. Principles are important but a man's gotta eat.