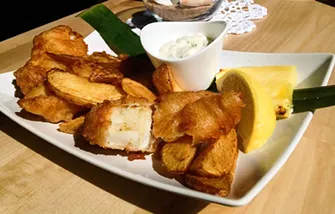 Jennifer Fumiko Cahill
Marinated cod fish and chips at Taste of Bim.
When a new place opens, the common wisdom is that you should try it in a couple of months when it's worked out the kinks. Are you made of stone? There's a whole unexplored menu to peruse and sample.
What if there's something you've never eaten before?
Once you finally break down and pull up a squeaky, new chair, here are a few things to keep in mind:
Save it for when you're not on a tight schedule and keep your group smallish. The servers may still be finding their feet and managers might not have figured out how many hands they need on deck at different times. You'll never feel so benevolent-god-like as when you raise your palm to a sweating, apologetic waiter and say, "no problem."
The whole menu might not be available — relax. Ask your server what his or her favorite thing is and get that. (Asking what's good will nearly always get you an optimistic but unhelpful "It's all good.") At Taste of Bim, the Caribbean place that's taken up residence in Avalon's former kitchen space (613 Third St., Eureka) our waitress steered us to cod fish and chips ($9). Unlike the UK version, the chunks of fresh cod beside the little potato wedges are marinated with garlic and herbs before frying in a light and bubbly batter. Do you really need the cup of mild tartar sauce? There's so much flavor to the flaky, pleasantly briny fish that you might not.
Jennifer Fumiko Cahill
Juicy jerk wings.
Another tip: Stick to basics and save the experimental items for later. Bim's half-dozen jerk chicken wings ($7) show up lightly blackened and the overnight-marinated meat is nicely spiced, but by no means hot. Must wings always be a test of manhood? Really? No. Here they are a way to enjoy the dark, fatty meat and tasty skin — chilis and earthy allspice and cinnamon enhance rather than mask their flavor. There is a side of creamy sauce not unlike the savory filling of a fancy, paprika-sprinkled deviled egg — again, not really necessary, but you can always dip your finger if you're among friends. Get the wings. And the plantains ($5). If you are a person who enjoys the not-too-sweet, firm and lemony fruit, these crisp-edged, piping hot slices are not to be missed.
Jennifer Fumiko Cahill
Fried plantains satisfy sweet and salty cravings.