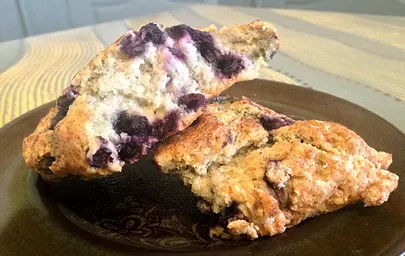 Jennifer Fumiko Cahill
A blueberry scone to set you on the path of righteousness.
So, after the holiday decadence you've resolved to eat healthy foods, to treat your body like a sustainably built temple instead of the shameless altar of Bacchus it's been for the last two months. But do you have to be a monk? Because that bowl of cold grains you're starting off with is a little grim. The counter at Cafe Phoenix (1300 G. St., Arcata), which boasts a changing menu of locally sourced and/or organic everything, might be a better place to start. The cake stands are stacked with scones, brownies and coffee cakes made with organic butter, flour, eggs and fruit to ease you into your new lifestyle. The blueberry scone ($3.50) is a good place to start — soft and cakey inside with indigo bursts of berries (antioxidants!) and a delicate, buttery crust of cinnamon. Do you want that warmed up in the oven so it's toasty outside and just a bit steamy within? Of course you do. Maybe a side of butter (organic, and we've decided butter's good right now — jump on that train while it's running). There are poached eggs and veggies on the board, but hey, baby steps. Let the next table explore Brussels sprouts as a breakfast food. You just enjoy that scone.