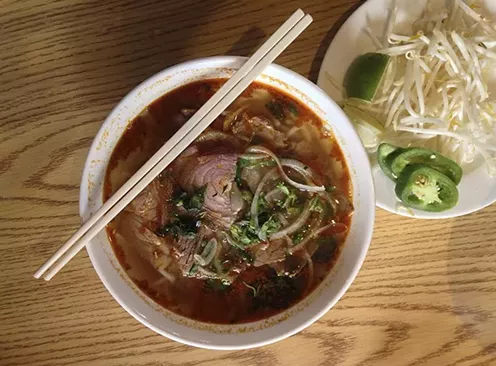 Jennifer Fumiko Cahill
Spicy beef noodle soup for the soul.
How's your cold? Just kidding. No one cares. You missed getting sick when everyone else was coughing and sneezing, and now that your friends and co-workers are healed up, they have no sympathy for you. Fine. You can drown your sorrows in more canned soup and cough syrup or you can drag yourself to a corner table — away from other customers, Typhoid Mary — at Pho Lan Phuong (1709 Fifth St., Eureka) and order the hot and spicy beef noodle soup ($9.75).
Don't be frightened by the color of the chili oil or the red letters on the menu; it's not crazy hot. In fact, there's just enough heat in the lemongrass broth to help you fake the glow of health. Toss in the sprouts and squeeze the lime in there with a couple of jalapeno slices, and breathe in the scent of the cilantro. It's not terribly salty, so if you feel the need to paint the town red with that squeeze bottle of Sriracha, you go ahead. There are thick, comforting rice noodles, slices of beef shank and soft hunks of tendon. Hey, collagen-rich tendon is supposed to be good for your skin, and you need something to lord over those insufferable healthy people.