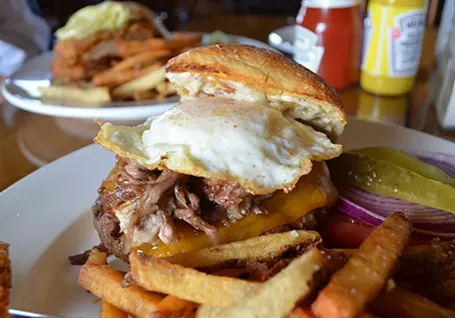 Grant Scott-Goforth
Pork belly is the new bacon.
It's not that you thought you were done with burgers, but you really did intend to take a break. Have a salad. OK, you were going to get the fried chicken sandwich, but then someone said the words "pork belly burger."
Let's be frank: If somebody puts a handful of roasted, glistening pork on top of a burger, it can't be bad. But the one at Plaza Grill (780 Seventh St. Arcata) is exceptional in its execution — it is everything
done right
($13). The grassfed beef burger (treat yourself to the $2 upgrade) is exactly medium rare and has its own char-grilled meatiness to stand on its own. The cheddar cheese, aioli and oil-brushed and toasted ciabatta bun would be accompaniment enough. But the pork — caramelized at its edges, sweet and fatty, falling apart as you pick at a piece under the bun — is downright marvelous. Pork belly might be the new bacon, a richer and softer alternative to the usual smoky and salty stuff. Is the fried egg on top superfluous with all the umami already on the scene? No. Because it, too, is perfectly done, fried for a crisp, browned frill and a thick yolk that cascades down the side and onto the plate where you should swab at it with a French fry. If you were unsure about ciabatta before, you'll be grateful for its sturdiness and its ability to soak up all those meaty juices now. The lettuce, tomato, onion and pickle sit smug and safe on your plate, as there's no way to fit them onto this thing. No matter. You're back on salad tomorrow.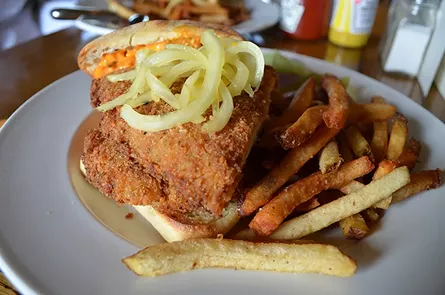 Grant Scott-Goforth
Buttermilk fried chicken goes fancy.
Unless you come back for that fried chicken sandwich. The buttermilk chicken sandwich (dinner only, $12), again on ciabatta, with a generous organic breast in a none-too-salty crust, is tender to the bite. The Sriracha aioli (which sounds like a gimmick but is a genuine pleasure that lights up all parts of your brain and which you should order on the side with your fries from now on) offers a bit of a kick, but the aromatic pickled onions steal the show with their crispiness, tang and hit of turmeric. All together it's a satisfying take on a pub and diner standard. And don't scoff at the iceberg lettuce — it's what you really wanted. You have the rest of your life for dark, leafy greens. Starting tomorrow.