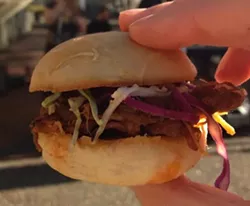 Jennifer Fumiko Cahill
Finger food and toe tapping during Taste of Main Street in Eureka.
We hate to eat and run ... wait, that's not true. We love walking around Old Town grabbing a bite here and there. But last night we were on a mission to eat our way through all 26 stops in the Taste of Main Street pass book. We were focused and we were swift, working our way backward from the new chowder at Jack's Seafood to the popcorn tofu at the Co-op. Alas, despite short lines, we were waylayed by a little jazz band here, a little socializing there. By the time we hit Fifth Street at 7:57 p.m., the chairs were up on the tables at Surfside Burger Shack, Bless My Soul Cafe was down to a couple of canapés and the Co-op was a mirage in the distance. If you missed a ticket or two, here are the spots we hit and the things we ate.