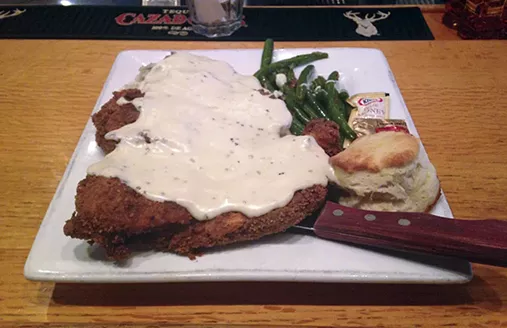 Jennifer Fumiko Cahill
It's Tuesday so it must be Southern fried chicken.
Tuesdays are press days at the
Journal,
a cruel constant that has thus far kept us from following a lead on the Tuesday night Southern fried chicken special ($20) at Six Rivers Brewery (1300 Central Ave., McKinleyville). But this week, we put the issue to bed and called ahead to secure one of four remaining orders. By the time we hopped a stool, our neighbors at the bar were already loosened up and the Warriors were taking a beating on the flatscreens.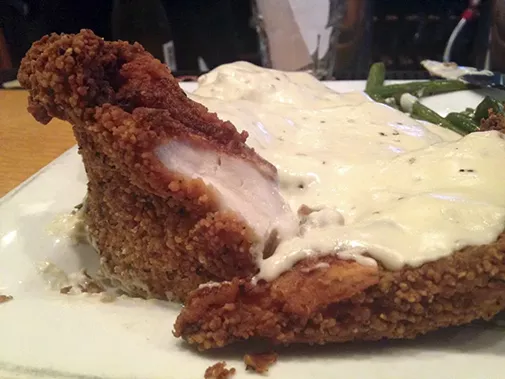 Jennifer Fumiko Cahill
Juicy inside, crunchy outside and gravy everywhere.
Those same neighbors nodded knowingly when the huge square plate arrived covered in cream gravy, with a biscuit teetering on its edge. Instead of a hands-on leg and breast, this is a flattened, boneless full breast —resembling a deep-fried Pangaea — with a peppery, audibly crunchy crust that holds up under an avalanche of gravy. The coating is, as Elvis' cook used to say, "seasoned pretty high" and the marinated meat inside is juicy enough to make you forget about dark meat for a moment. Asked about the ingredients (is that cornmeal?) the cook replied, "just flour and egg wash." Lies. But we're not even mad. You will need your fork and the oversized knife — to cut, to share or to warn off the envious latecomers who didn't snap up those other three orders. Keep looking under that snowdrift spotted with cracked pepper and you'll find mashed potatoes (jackets on) and green beans slicked with butter. The homemade biscuit, though dwarfed by the tectonic plate of chicken, comes with a very southern foil-wrapped pat of butter and packet of honey so it doesn't forget where it came from.