Jennifer Fumiko Cahill
Stop looking at the menu and order the carne asada burrito.
Now and then, you may see a faraway look in the eyes of those of us without Frumboldt stickers on our cars, who hail from elsewhere but were lured here by Humboldt's verdant charms (or perhaps the charms of a Humboldter). We long for the food of our homelands. You may wave a hand in our faces but we are far away, spirited back by memory to remembered barbecue shacks, deli counters, dim sum joints and pubs, ordering our usual.
Your San Diegan friend is likely dreaming of Roberto's, the 50-year-old gold standard for the city's signature carne asada burrito. And in a real desire to help, you may have taken him or her to your favorite spot only to see a perfectly fine burrito met with a sad smile and that distant look again.
Don't give up. That funny log cabin-looking building near the courthouse has been hastily painted over yellow and converted into Raliberto's Taco Shop (1039 Fourth St., Eureka), an outpost of the franchise rumored to have been started by a relative of the Roberto's dynasty. Right by the courthouse. Takeout is not a bad idea.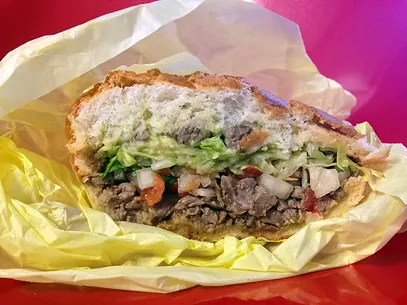 Jennifer Fumiko Cahill
The sandwich version with lettuce for health nuts.
The
Journal
's token San Diegan was pleased. The carne asada burrito ($5.95) is a slightly too chewy flour tortilla stuffed with fistfuls of marinated chopped beef, pico de gallo and guacamole. That's it. No rice, no beans, no cheese. Between bites its SoCal minimalism drew sounds of happy surprise from northerners, too, as did its torta cousin ($5.95) on a soft bun with the addition of a little shredded lettuce. Much of the credit goes to the green and red salsas, little shot cups with no lumps and plenty of heat.
You stay classy, San Diego.